Tamarind Recipes
Noris Ledesma, Curator of Tropical Fruit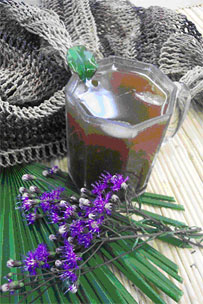 Fresh Tamarind Recipe
20 fresh tamarinds
6 cups water
¾ cup sugar
Add tamarinds to water and let stand 10 hours. Stir well, strain. Add sugar and chill. Serve with cracked ice.
Sweet Tamarind Chutney
2 cup of tamarind pulp (30 tamarinds, peel and remove the seeds)
1 tsp. ground cloves
1 tsp. ground cinnamon
1 tsp. ground cumin
1 tsp. ground black pepper
8 ounces (1½ cups) brown sugar
½ teaspoon salt
3 fresh green jalapenos – quartered
2 large onions- diced
3 tsp. mashed garlic
1 cup dark raisins
Place all ingredients in heavy saucepan over medium heat. Bring to boil. Lower heat and simmer for about 15 minutes, stirring frequently. Remove from heat, cover, and let stand for about 12 hours. Serve it with crackers or any meat.
Tamarind Salsa
1 cup of tamarind juice (Soak 10 tamarinds and extract juice)
2 oz flour
1 pinch grated ginger
1/8 cup red onion, diced
2 green chilis
1 teaspoon cumin seed
½ teaspoon salt
1 tablespoon butter
1 tablespoon sugar
Heat the butter, salt, onions and chilis. Add the tamarind and the rest of the ingredients and stir constantly until slightly reddish brown in color.
Marinate the chicken with onions, oregano, salt and pepper. Bake or grill the chicken.
To serve, warm the salsa over medium heat, plate the chicken and spoon on some tamarind salsa.