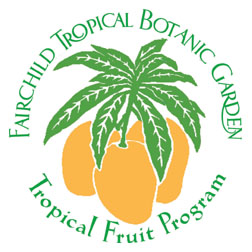 International Mango Festival
Winning Mango Recipes from the Third Annual Mango Cook-off ~ July 2003
The Third Annual Mango Cook-off & Contest was held on Saturday, July 12, 2003 in the Jean duPont Shehan Visitor Center. Eight contestants were selected to prepare their soon-to-be-famous favorite mango recipe and awards were given in three categories:
Condiment/Appetizer
Entree
Dessert
The judges winning selections follow.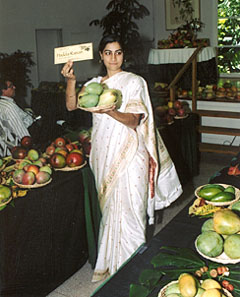 2003 Mango Cook-off Winner: Condiment/Appetizer
Exotic Mango Lychee Salsa
By Joy Norwood
A Perfect blend of exotic flavors makes this salsa irresistible!
1 pound fresh lychees, seeded and peeled (2 cups) (You can use canned lychee if fresh is out of season)
1 large medium ripe mango, diced
½ red bell pepper, seeded, finely diced
¼ cup sweet red onion, finely diced
3 T lime/lemon juice
1½ T fresh lemon grass, minced or 2 t dried lemon grass
2 T fresh mint, finely minced
2 T grated fresh ginger
1 t sesame oil
salt & pepper to taste
Dice the mango, lychee in a medium size. Mince the red pepper. Combine the three in a bowl and mix well. Add the diced red onion. Whisk together the citrus juice, ginger, and lemon grass in a small bowl and thoroughly toss with the fruit. Season with salt & pepper to taste.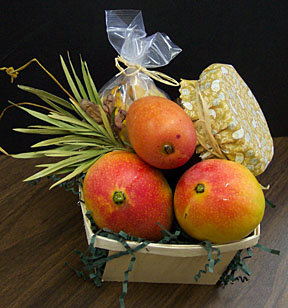 2003 Mango Cook-off Winner: Entree
Nut Crisped Mahi Fingers with Warm Mango Sauce and Coconut Curry Rice
By C. Patricia Cruz
6 Dolphin* Filets (approx. 6 oz. each) cut into 3 strips lengthwise (* you may substitute another fish as long as the filet is about ½ inch thick)
4 eggs, beaten
Oil to fry fish, preferably canola, vegetable or coconut oil
6 oz. pecans (finely chopped)
3.5 oz pine nuts (finely chopped)
2 ½ cups plain bread crumbs
½ T salt
12 mango leaves
Combine pecans, pine nuts, salt and bread crumbs in a shallow dish. Dip fish in egg and place in breading. Press fish down in breading to make sure you get pecan pieces to stick. Fry the fish in preheated oil till golden and crispy. Drain on paper towel. Serve immediately over Coconut Curry Rice (recipe below) with individual ramekins of Warm Mango Sauce. Garnish with chives and mango leaves.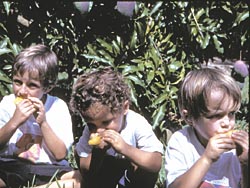 Warm Mango Sauce
1 whole mango ? seeded, peeled & chopped (approx. 1 cup)
9 oz. Major Grey's Mango Chutney
½ onion finely chopped
2 T butter
¼ t curry powder
Juice of ½ lime
Pinch of white pepper (optional)
In a saucepan, sauté onion in butter over medium-low heat until transparent. Add chutney and lime juice and stir until blended. Add curry powder and white pepper and stir until blended. Add the fresh mango and stir. Serve warm in individual ramekins.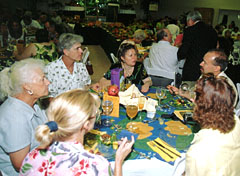 Coconut Curry Rice
2 cups uncooked white rice
2¾ cups of water
¾ T salt
1 ½ t curry powder
1 can garbanzo beans, drained
1/3 cup of chopped onion
1 cup of coconut oil (you may use vegetable oil if coconut oil is not available)
1/8 cup grated coconut or coconut milk (optional)
Combine all ingredients in a large saucepan or pot. Stir. Bring to a boil. Once the water comes to a boil, cover and reduce heat to low. Simmer until all the water is absorbed and rice is tender, approx. 15-20 minutes. Remove from heat. Serve with Nut Crisped Mahi Fingers & Warm Mango Sauce.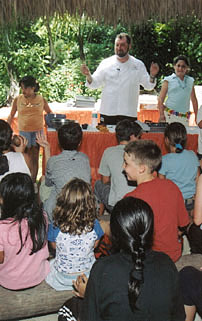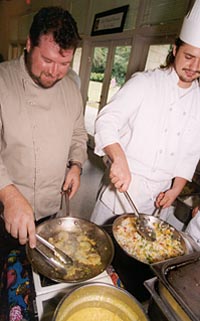 2003 Mango Cook-off Winner: Dessert
Easy Mango Brulee Renee
By Renee A. Joslyn
Makes Six 2/3 cup servings
2 cups mango pieces
½ teaspoon allspice
8 egg yolks (use large eggs)
1/3 cup white sugar
2 cups regular whipping cream
¼ teaspoon vanilla
pinch of salt
approx. 1/3 cup white or raw sugar (for topping)
Pre-heat oven to 300 degrees F.
Puree mango with the allspice until thoroughly blended, then strain through a sieve to remove all fibers and lumps. Set aside.
In another bowl, beat the egg yolks with 1/3 cup sugar till sugar is dissolved and the mixture is creamy and light yellow. Add cream, vanilla, and salt, and blend thoroughly. Fill oven-proof ramekins or custard dishes about ½ - 2/3 full with the custard mixture, then spoon 2 tablespoons of the mango puree into the center of each. Spoon remaining custard over the top.
Make a water bath by placing a terry kitchen towel in the bottom of a deep casserole dish or roaster (large enough to hold your custard cups without touching each other). Place filled custard cups into the prepared casserole or roaster, place in oven, and add enough warm water to come about ½ way up the sides of the cups. Bake for 40 minutes.
The custards will be barely set and will jiggle. Refrigerate for a minimum of 2 hours (or 1 hour in the freezer). Sprinkle about 1 teaspoon of white or raw sugar over each custard. Caramelize the sugar either with a small hand-held torch or under the broiler for about 2 minutes or until browned to your liking. When it cools, there should be a hard shell over the top. Chill until ready to serve.
(*Note: If you like, you can prepare the custards up to 24 hours ahead. when you remove the custards from the oven, let them cool to room temperature still in the water bath, then remove from bath, cover with plastic wrap and refrigerate. Do not prepare the caramelized sugar topping until ready to serve.)