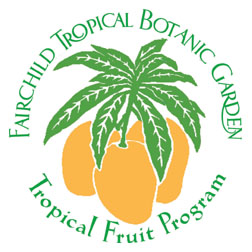 International Mango Festival
Winning Mango Recipes from the First Annual Mango Cook-off ~ July 2001
Mango Cook-off & Contest judges, Allen Susser, Nancy Ancrum, Becky Campbell and Leila Barnes, awarded three categories of recipes:
Condiment/Appetizer
Entree
Dessert
The judges winning selections follow.
Condiment
Gingered Mango /Pineapple Jam
Winner: Joy Norwood
3 1/2 cups ripe mango, peeled and chopped
1 cup crushed pineapple, well-drained
1/4 cup crystallized ginger, finely minced
6 cups granulated cane sugar
1 box Sure-Jell fruit pectin
1/2 tsp. orange peel, finely minced
1/4 cup dried cranberries, chopped
Prepare the fruit. Measure sugar into separate bowl. Place mango, pineapple, ginger, cranberries, orange peel, and pectin in a large kettle and mix well. Place on high heat and stir until mixture comes to a boil and boil for one minute, stirring constantly. Remove from heat and skim off foam with a metal spoon. Stir and skim for five minutes to cool slightly. Process in canning jars or refrigerate for up to two months.
Entree
Mmm-mmm Mango Pinwheels (Serves 4-6)
Winner: Robert Schmidt
1 large flank steak, 2 to 3 pounds
Marinade:

1/3 cup soy sauce
3 cloves garlic, minced
2" knob ginger, peeled and grated
1/2 cup bottled mango nectar
1/2 cup ripe mango, pureed
Juice of 1 lime
1 tsp sesame oil
1/4 cup orange liqueur (Grand Marnier) or mango liqueur

Garnish: 12 slices mango
12 bamboo skewers
Prepare marinade: combine all ingredients in a flat dish. Slice flank steak into 12 strips, against the grain, about 1/3" thick. Marinate steak for at least two hours or overnight. Soak skewers in water for 30 minutes. Roll strips into spiral pinwheels and skewer. Carefully skewer mango at tip.
Grill over hot charcoal until done to taste, about four minutes each side for rare, six minutes medium rare. Carefully remove to plate, preserving pinwheel shape. Garnish with grilled mango slices.
Dessert
Mango Cobbler Delight (Serves 8-10)
Winner: Maria H. Giles
Fruit: mix in large bowl

6 medium ripe mangos, peeled and diced
1 tsp. vanilla
1 tsp. fresh lemon juice
1 tsp. Grand Marnier (optional)

Sugar Mixture: mix in medium bowl

1/2 cup sugar
1/2 tsp. cinnamon
1/4 tsp. nutmeg
1 1/2 Tbsp. flour

Topping: mix in small bowl

3/4 cup milk
2 cups self rising flour
1/3 cup lt. brown sugar
1/8 tsp. salt
1/3 cup chopped pecans
1/3 cup chopped walnuts
1/3 cup chopped macadamia nuts
2 Tbsp. butter
Stir sugar mixture into fruit. Place in 13" x 9" X 2" pan and bake at 400°F for 15 - 20 minutes (until boiling). While fruit is baking, mix the topping. When fruit comes to boil, remove from oven and spoon topping onto fruit. Place back in oven for 15 - 20 minutes or until golden brown. Serve warm. Also good with French vanilla ice cream.