Banana Recipes
Noris Ledesma, Curator of Tropical Fruit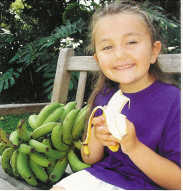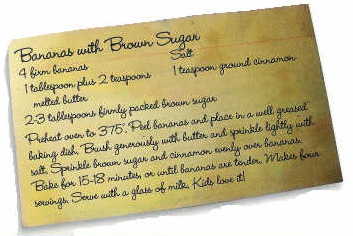 Bananas, called the Fruit of Paradise, are large herbaceous plants, spread by rhizomes, in the Musaceae family. One of the most important food crops of the world, the banana is grown and consumed extensively throughout the tropics, and is valued in the temperate zone for its flavor, nutritional value and constant availability. Although hundreds of varieties are cultivated, in our grocery stores, you will typically find only 'Cavendish' or 'Gran Nain'. The ripe fruit is low in protein and high in carbohydrates, potassium and vitamins C and A. Though they're usually eaten fresh, bananas can also be cooked.
Bananas are the most versatile fruit that I know, with many uses around the world. Bananas are eaten raw, either alone or cut in slices with sugar and cream. They can also be combined with wine and orange juice; roasted, fried or boiled; and made into fritters, preserves and marmalades. In Southeast Asian cuisine, the flower of the banana is also used, either served raw with dips or cooked in soups and curries. The leaves of the banana are large, flexible and waterproof, and are used as umbrellas and to wrap food for cooking. Central American tamales are sometimes steamed in banana leaves, and Puerto Rican pasteles are boiled, wrapped and tied inside the leaf.
Bananas with Brown Sugar
4 firm bananas
1 tablespoon plus 2 teaspoons melted butter
2 - 3 tablespoons firmly packed brown sugar
salt
1 teaspoon ground cinnamon
Preheat oven to 375°F. Peel bananas and place in a well greased baking dish. Brush generously with butter and sprinkle lightly with salt. Sprinkle brown sugar and cinnamon evenly over bananas. Bake for 15 - 18 minutes or until bananas are tender. Makes four servings. Serve with a glass of milk. Kids love it!