Avocado Recipes
Noris Ledesma, Curator of Tropical Fruit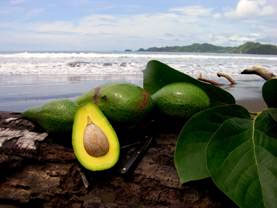 Avocados are great with lemon juice and salt. They can be mashed for guacamole, but are also delicious sliced and served with vegetables, or as an avocado salad with crab, tuna or chicken. Avocados are good in sandwiches and on hamburgers. In Brazil and other select locations it is viewed as a dessert fruit and made into a delicious mousse or ice cream.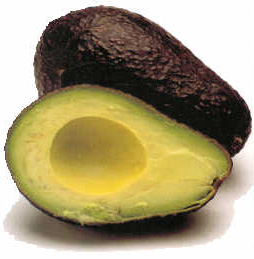 Avocado Ice Cream
(Makes 1/4 gallon)
3 avocados (2 cups)
1 cup sugar
1 1arge can sweetened condensed milk
2 cups whipping cream
1/4 cup lime juice
Whip avocado pulp, lime juice and sugar in blender or food processor. Pour the avocado mixture into the ice cream maker and add the whipping cream, and the condensed milk. Freeze and churn until ready.
Carambola Avocado Salad
(serves 4)
Torn lettuce leaves
2 tomatoes, sliced
½ red onion, sliced very thin
1 avocado, sliced
2 carambolas, sliced
On each of four salad plates, arrange a bed of lettuce. Layer the remaining ingredients in the order listed. Drizzle with lemon vinaigrette or your favorite dressing.
Avocado Bread
½ cup avocado, peeled, seeded and mashed
½ cup buttermilk
1 large egg – slightly beaten
1 cup chopped pecans
½ cup light or dark raisins (optional)
2 cups all-purpose flour
¾ cup granulated sugar
½ teaspoon each – baking soda, baking powder, cinnamon
¼ teaspoon salt
In a medium bowl combine avocado, buttermilk, egg, pecans and raisins (if using). Set aside.
In a large bowl sift together flour, sugar, baking soda, baking powder and salt. Pour avocado mixture over flour mixture, mixing only until all flour is moistened. Do not over mix. Pour batter into a greased loaf or bundt pan, pushing mixture into corners with a spoon.
Bake in a preheated 350 degree oven for 1-hour or until tested done.