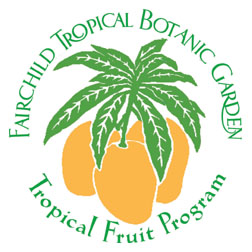 International Mango Festival
2004 Winning Mango Recipes from the Chutney Challenge ~ July 2004
The Chutney Challenge was held on Saturday, July 11, 2004 in the The Gallery at Fairchild. The judges winning selections follow.
1st Place Winner
Spicy Overgrown Mango Chutney
by Russell Katzman
Yields: 10 oz.
1 Cup Mango (chopped)
¼ Cup fresh tomato (chopped)
3 tsp. Onion (finely chopped)
1 Tbs. Fresh bell pepper (chopped)
1 tsp. Pickled jalapeno pepper (seeded & chopped)
1 large clove of garlic (minced)
1 tsp. honey
1 Tbs. Fresh Key lime juice
A pinch of each: salt, basil, pepper, oregano, & cilantro
Mix all of the ingredients together, stirring after each ingredient. Put the mango in last to avoid crushing it. Let the chutney stand in the refrigerator several hours or overnight in a sealed container. Stir, taste, and adjust the spices if desired. Enjoy! Excellent on fish, chicken, rice, or as a dip on garlic toast.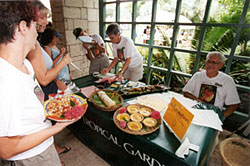 2nd Place Winner
Rummy Coconut Chutney
by Rosalie Weiss
Yield: 3½ Cups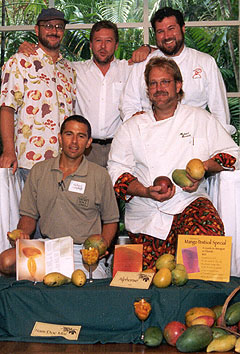 1½ cups cider vinegar
½ cup coconut rum
1¼ cups firmly packed dark brown sugar
3 cups peeled & coarsely chopped mangos
½ cup golden raisins
1 Tbs. Fresh lime juice
2-3 pieces candied ginger – soaked to remove the sugar
1 tsp. Cinnamon
1 tsp. Salt
1 tsp. dry mustard
½ tsp. Minced garlic
½ tsp. Cayenne pepper
Bring vinegar and sugar to boil over high heat. Reduce heat to medium low and add remaining ingredients. Simmer until mixture thickens slightly 20 – 25 minutes. Cool. Chutney will continue to thicken. Store in sterilized jars in refrigerator. Recipe can be cut in half. 3rd place winner
Mango Chutney
by Paula Smith Applegate
1 TBL Butter
½ Red onion chopped
½ Bell pepper chopped
2 Cups Mango
Pinch of salt
Handful of Golden Raisins
½ cup rice vinegar
¼ cup Sugar
1 TBL Arrowroot dissolved in 2 TBL Water
¼ tsp garan masala
Melt butter in saucepan. Sauté onion & pepper until just soft. Add Mango, salt, and raisins. Sauté 2 minutes. Add sugar & vinegar. Bring to a boil. Add arrowroot & stir until mixture thickens (about 2 minutes). Remove from heat & sprinkle garam masala on top. Cool.