Canistel Recipes
Egg Fruit Coconut Bread
2 cups flour
½ tsp baking soda
¼ tsp salt
1/8 tsp cloves
1/8 tsp cinnamon
½ cup softened butter
1 cup sugar
2 eggs
1 cup milk
½ tsp vanilla
2 cups mashed ripe canistel
1 cup grated coconut
Preheat oven to 350°F. In a small bowl, combine flour, salt, baking soda and spices. In a large bowl, blend butter and sugar, then blend in eggs. Slowly stir in milk, then vanilla and canistel. Stir in flour mixture, and mix in coconut. Spoon into a greased 8½ X 4½ x 2½ in loaf pan, making sure to leave ¾ inch at the top to allow the bread to rise. Bake 40 minutes or until a toothpick comes out clean.
Cream of Canistel Soup (serves 6)
1 Tbsp butter
½ cup finely chopped onion
1 tsp minced garlic
1½ cups canistel
2 cups milk
4 cups chicken stock
1 envelope Knorr instant chicken soup
1/8 tsp ground pepper
salt to taste
½ cup heavy cream, whipped
minced chives
Melt butter in a sauce pan. Add onion and sauté until translucent. Add garlic and cook one minute more. Add canistel, milk, stock, soup mix, pepper and salt. Cook for 15 minutes, stirring constantly. Garnish with whipped cream sprinkled with chives.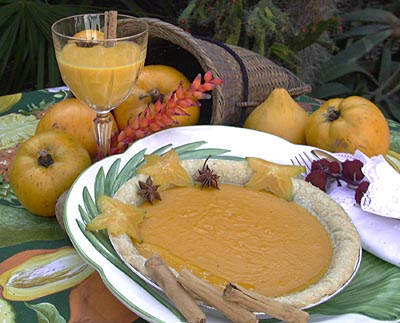 Canistel Pie (serves 6)
1 cup sugar
1 tsp ground cloves
¼ tsp salt
3 eggs
1½ cup mashed canistel
1½ cup milk
1 tsp vanilla
1 unbaked 9" deep-dish pie shell
Preheat oven to 425°F. Mix sugar, salt and cloves in small dish. Beat eggs in large bowl. Stir in canistel and sugar/clove mixture. Gradually stir in milk and vanilla. Pour into pie shell. Bake 15 minutes in a preheated 425°F oven; turn temperature down to 350°F and bake about 30 minutes more or until firm. Serve with whipped cream.
Canistel Vegetable Rice (serves 6)
2 Tbsp cooking oil
½ cup sliced carrot
½ cup chopped onion
1 cup chopped bell peppers, red, orange and green if possible
2 tsp minced garlic
½ cup cooked chickpeas (drained)
1 cup mashed canistel
1 tsp salt
1 cup rice
2 cups water
Optional: 1 cup cooked, chicken, pork or steak, chopped
Garnish: minced parsley, chives and paprika
In a medium saucepan, heat oil. Sauté carrots and onions until tender. Add peppers and garlic and sauté one minute more. Stir in chickpeas. Add rice, sauté briefly, then stir in canistel, salt, rice, meat (optional) and water. Cook 20 minutes or until rice is tender, adding more water if necessary. Correct seasonings, turn into a serving dish and garnish.