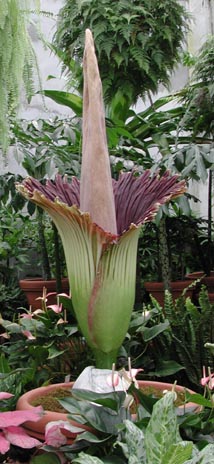 June 27 2001, 6:00 p.m. EDT
72 inches and opening
Amorphophallus titanum
"Alice the Amorphophallus" last bloomed in September 1999
A Second Amorphophallus Blooms
The Return of "Alice the Amorphophallus"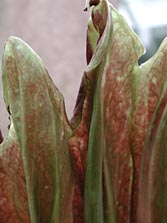 spathe detail
Titan Watch
6 pm = opening tonight
6/27/01 = 72 in. (6ft.)
6/26/01 = 70.5 in.
6/25/01 = 69 in.
6/24/01 = 66.5 in.
6/22/01 = 61 in.
6/21/01 = 56 in.
6/20/01 = 52 in.
6/19/01 = 47 in.
June 28, 2001
"Alice" makes it to Wonderland this time!
In 1999 "Alice the Amorphophallus" donated her body to science when the bloom did not open. This time she reached wonderland, stinking all the way. The plant had been growing at a rate of five inches per day but its growth slowed to 1.5 inches, during a 24 hr. period, as it prepared to open.
Strong waves of odor filled the air on Thursday morning when Fairchild opened on June 28. The titan was hand pollinated at 10:00 a.m. It will begin to close after pollination.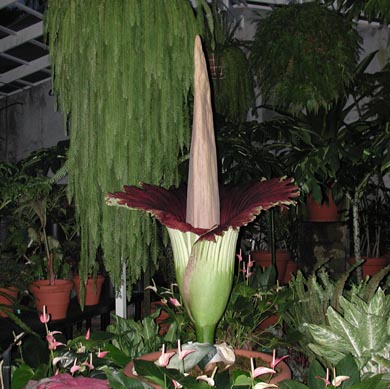 Amorphophallus titanum, June 27, 2001, 8 pm
"Alice" was a most unusual specimen when it first bloomed in September 1999. Garden staff waited and hoped for a full bloom, but when mother nature would not comply "Alice the Amorphophallus" donated her body to science.
The six foot one and one-half inch Amorphophallus titanum (Titan Arum) specimen was harvested for scientific study. The public observed DNA sampling and vouchering as the plant was converted to a dried herbarium (museum) specimen. The decision was made to preserve it at its peak since it withers and wilts quickly after blooming.
Vouchering is a scientific process of collecting and preparing the live plant as a dried and pressed specimen to be archived in a herbarium. The Fairchild Herbarium houses more than 103,000 specimens used for scientific study. Fairchild's virtual herbarium is the world's first herbarium on the internet and is used for scientific study worldwide.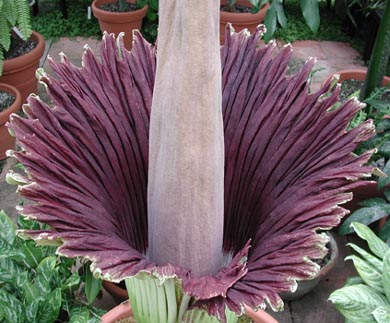 DNA testing allows scientists to look at the actual code that differentiates that code from different and similar species. The code is not influenced by growing location or other factors. DNA studies of tropical plants are in their infancy. The scientific records of this rare species, not easily accessible to most botanists, will enable future study of its morphology. Preserving the DNA makes the information available even when the plant is not growing or in bloom. Fairchild Tropical Botanic Garden is in the process of creating a DNA bank of plants growing in Fairchild.
Why the name "Alice"? It was a Garden staff member who fondly named the bloom "Alice the Amorphophallus."
You are welcome to use these images for non-commercial, educational purposes such as school reports, and presentations. They may also be used freely by the media (television, newspapers, magazines, web) if you cite Fairchild Tropical Botanic Garden as the source. If you do use any of our material, we would appreciate a copy of what you produce. Our images may not be included within any kind of a commercial package (such as a clip art or screen saver package). For information regarding use, contact Suzanne Kores.
Photographs: Suzanne Kores
Copyright © 2001 Fairchild Tropical Botanic Garden, 10901 Old Cutler Road,
Coral Gables, FL 33156 USA. Phone 305/667-1651