Amorphophallus titanum 1999
Titan Bloom Watch '99:
September 9 11:00 a.m., EDT
6 feet 1 1/2 inches
September 8
6 feet 1/4 inch
September 7 4:00 p.m. EDT
6 feet 1/4 inch
September 5 6:00 p.m. EDT
6 feet 1/4 inch
little change since yesterday,
or 10:00 a.m. today
September 4 1:00 p.m. EDT
6 feet 1/4 inch
spathe open a bit more
September 3 8:30 p.m. EDT
6 feet 1/4 inch
we continue to wait
September 3 11 a.m. EDT
6 feet 1/4 inch
bloom imminent
September 2
6 feet 1/4 inch
September 1
6 feet 1/4 inch
August 31
6 feet 1/4 inch
August 30
70 inches
August 29
69 1/2 inches
August 28
66 3/4 inches,
red coloration on edge of spathe
August 27
62 1/2 inches,
taller than the 1998 bloom
August 26
58 1/4 inches
August 25
53 1/4 inches
August 24
48 1/4 inches
move from Conservatory to Garden House
August 23
43 1/4 inches
August 22
39 3/4 inches
August 20
30 1/2 inches
August 19
27 1/2 inches
August 18
24 1/2 inches
spadix is still hidden, but bloom is confirmed
August 17
21 1/4 inches
still not completely positive it is a bloom
August 16
19 1/2 inches
May 17
tuber repotted
Size: 17 inch diameter / Weight: 35 pounds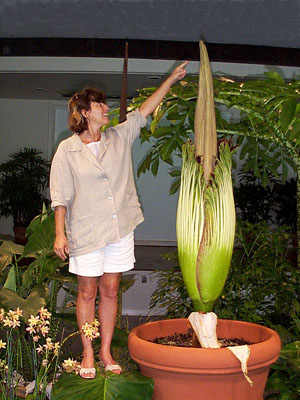 Amorphophallus titanum
September 2, 1999
The six foot one and one-half inch Amorphophallus titanum (Titan Arum) specimen was harvested for scientific study on Thursday, September 9. The public was invited to observe DNA sampling and vouchering as the plant was converted to a dried herbarium (museum) specimen. The decision was made to preserve it at its peak since it withers and wilts quickly after blooming.
Vouchering is a scientific process of collecting and preparing the live plant as a dried and pressed specimen to be archived in a herbarium. The Fairchild Herbarium houses more than 165,000 specimens used for scientific study. Fairchild's virtual herbarium is the world's first herbarium on the internet.
DNA testing allows scientists to look at the actual code that differentiates that code from different and similar species. The code is not influenced by growing location or other factors. DNA studies of tropical plants are in its infancy. The scientific records of this rare species, not easily accessible to most botanists, will enable future study of its morphology. Preserving the dried specimen and the DNA makes the information available even when the plant is not growing or in bloom. Fairchild Tropical Botanic Garden is in the process of creating a DNA bank of plants growing in Fairchild.

A. titanum
August 16
19 1/2 inches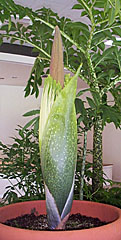 A. titanum
August 25
53 1/4 inches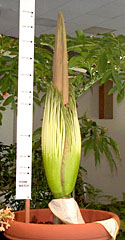 A. titanum
August 29
69 1/2 inches

A. titanum
August 31
72 1/4 in.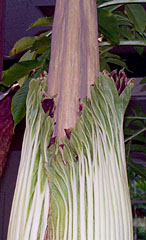 A. titanum
August 31
72 1/4 inches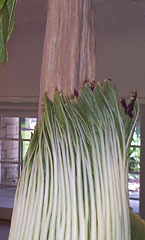 A. titanum
September 1
spathe loosens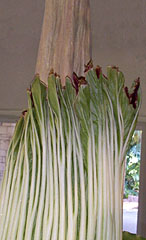 A. titanum
September 4
spathe opens more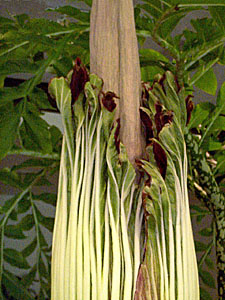 A. titanum
September 7, 4:00 p.m. EDT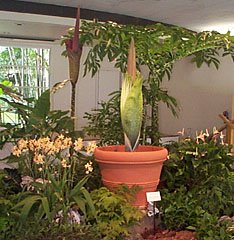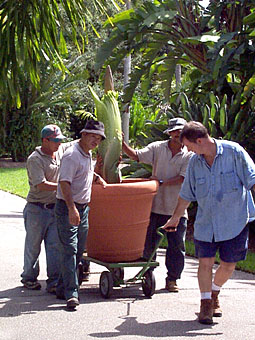 Moving A. titanum through Fairchild from
Windows to the Tropics conservatory to display in Garden House Auditorium,
August 24, 1999
September 8, 11:00 a.m. EDT
While still a very attractive specimen, the spathe that we have been hoping was going to finish opening, has taken on a slightly desiccated look. Now there is no expectation that she will fully bloom. We have decided that to get the most usable vouchered herbarium specimen we would harvest the inflorescence before it deteriorates. Harvesting will take place on Thursday, September 9 at 11:00 a.m.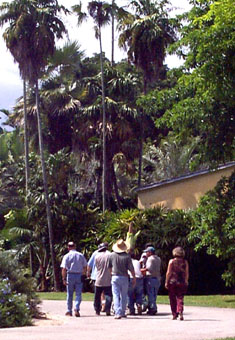 Moving A. titanum through Fairchild from
Windows to the Tropics conservatory to display in Garden House Auditorium,
August 24, 1999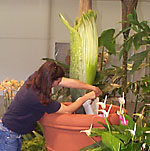 September 7, 4:00 p.m. EDT
Progress is slow but steady. We continue to wait.
September 2, 10 a.m. EDT
A "Bloom Watch" has been issued. The spathe has loosened from the spadix and we anxiously await the full bloom.
September 1, 10 a.m. EDT
Vertical growth has stopped again, and the spathe is loosening. Full bloom is now expected on Friday, September 3.
August 31, 1 p.m. EDT
It's growing again... 2 1/2 inches since yesterday, making us revise our bloom time estimte back to our original calculation of between September 3 and 6.
August 30, 11 a.m. EDT
"The Titan has just about stopped its vertical growth, gaining only 1/2 inch since yesterday. If last years pattern holds true, the inflorescence should stop growing for several days and then open quickly. We are revising our time estimate. The opening could occur as early as Wednesday, September 1 or as late as Friday, September 3. Of course this is just a best guess, there isn't enough experience to be sure. Everyone needs to get their nose in good sniffing condition." Craig Allen, Conservatory Manager
August 28, 4 p.m. EDT
"The red color developing on the inside of the spathe is getting very prominent. The color shows through the flap where the closed spathe overlaps itself. That was not evident on last years inflorescence. The lower part of the spathe is beginning to balloon out and the fold are loosening a bit. There is a bit of evidence that the top ruffle is loosening up as well. The spadix is developing furrows and the pores are appearing as white specks on its upper areas." Craig Allen, Conservatory Manager
On August 24 conservatory manager Craig Allen, with help from five of Fairchild's gardeners, slowly wheeled it from the conservatory to the display location by hand. Allen worried over every bump in the road, only to find that it wouldn't fit through any of the doorways. The huge pot had to be tipped, repeatedly tying Allen's stomach in knots. The rapidly growing plant is surrounded by an assortment of amorphophallus and other species from the Aroid family.
In addition to the display educational material will be available as well as and informal talks. Fairchild will also voucher the mature plant for inclusion in Fairchild's Herbarium of dried specimens. The Herbarium now holds 100,000 specimens which are used for scientific study. DNA testing of the plant will be conducted by Center for Tropical Plant Conservation scientists in Fairchild's molecular laboratory.
The dormant 17 inch, 35 pound tuber was repotted on May 17, 1999. Our other large tuber, last years famous "Stinky Plant", was repotted at the same time and already had a new leaf emerging before our current "star" decided to leisurely break dormancy. It was noted last year that the blooming plant was also the last one of the Titans in cultivation at Fairchild to emerge.
"TRULY A MONSTER"... is how David Attenborough described this plant in his 1995 BBC television program "The Private Life of Plants". When Fairchild's first plant flowered in June of 1998 it really became quite an event. Huge crowds overwhelmed our 'Windows to the Tropics' conservatory where it was displayed. This event, the sixth documented bloom of this species in the United States and the first in Florida since 1937, was the beginning of a huge nation wide wave of interest in this fascinating species. Other more recent flowerings continue to capture the imagination of the public and have brought wonderful exposure to botanical gardens. This is the 12th blooming.