The Return of the Titan 2001
Elena Schnell, Agricultural Research Service of the USDA (United States Department of Agriculture), uses new techniques to collect volatiles for chemical composition research of the fragrance. May 15, 2001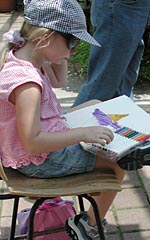 Young artist and Garden member, Katie Martin, captures the fleeting Amorphophallus titanum. May 17, 2001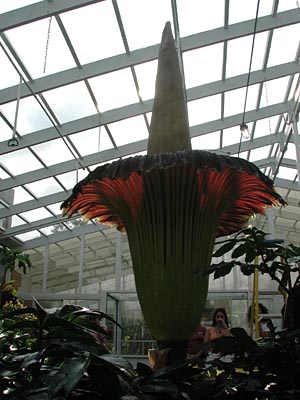 Onlooker holds her nose, May 15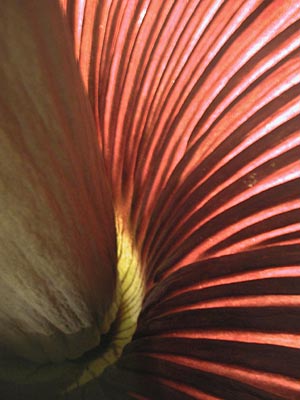 Spadix and spathe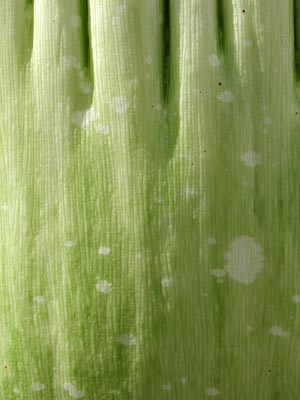 Amorphophallus titanum, base exterior detail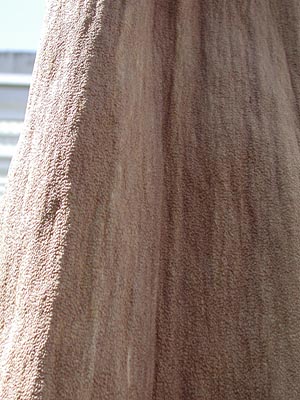 Amorphophallus titanum, spadix detail, May 17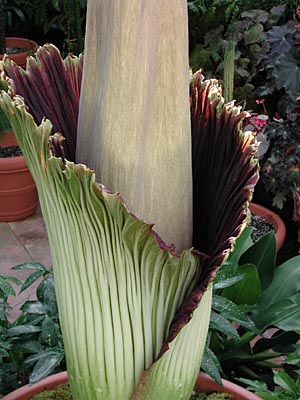 Amorphophallus titanum, spathe moves away from spadix
May 14, 2001, 3:30 p.m. EDT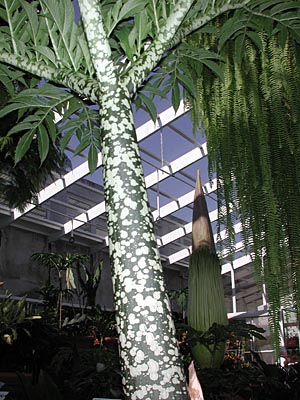 Amorphophallus paeoniifolius leaf form foreground, Amorphophallus titanum inflorescence in background
May 13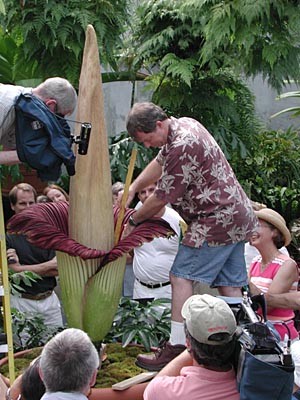 Craig applies pollen as cameras of every shape and size roll. His carrion beetle was fashioned from a common yardstick and a camel hair brush.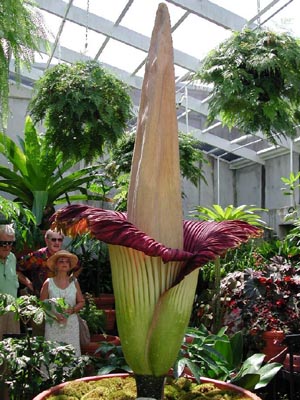 May 15, 2001, 10:00 a.m., 80 1/4 inches
Amorphophallus titanum in full bloom
Photo: Reggie Whitehead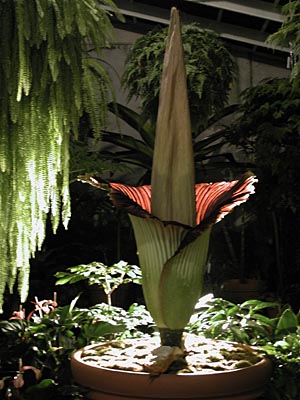 May 14, 2001, 10:30 p.m. EDT, 79 1/2 inches
Amorphophallus titanum comes in to full bloom, and stinks beyond belief, after dark.
Photo: Suzanne Kores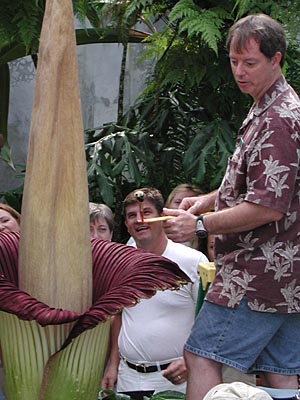 Craig Allen collects the precious pollen on his version of a carrion beetle - a camel hair brush. The pollen was a gift from Doug Ewing, Greenhouse Manager, University of Washington, Seattle, who bloomed a Titan on May 7. When asked if he would like reimbursement he replied, "reimbursement not necessary, just don't expect child support."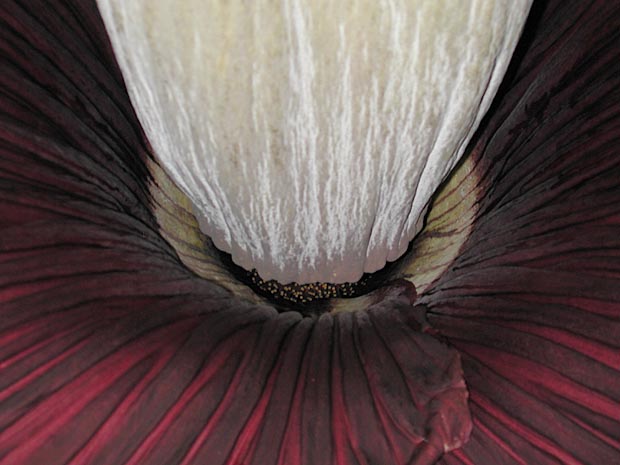 Flowers hidden at base of spadix, A. titanum, May 14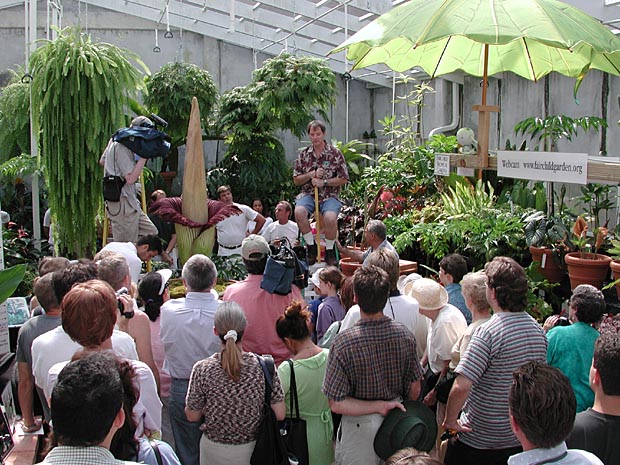 A crowd gathers for the hand pollination of A. titanum, on May 15, 2001, 4:00 p.m.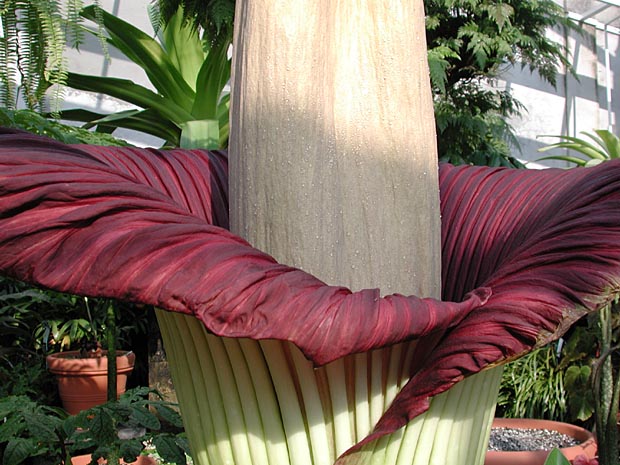 Detail spathe & spadix, A. titanum, May 15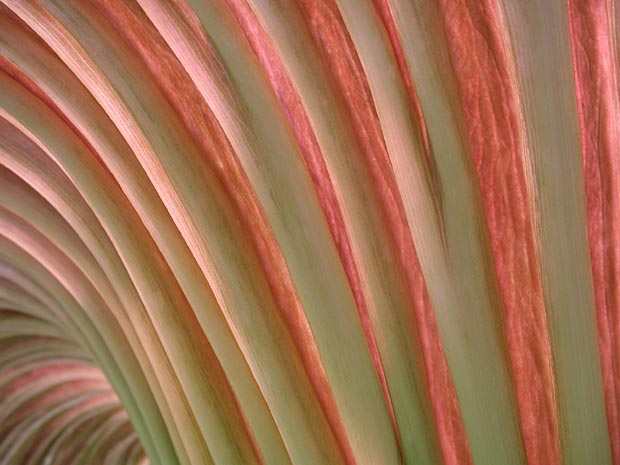 Amorphophallus titanum, spathe detail

Young artist and Garden member, Katie Martin, captures the fleeting Amorphophallus titanum. May 17, 2001
You are welcome to use these images for non-commercial, educational purposes such as school reports, and presentations. They may also be used freely by the media (television, newspapers, magazines, web) if you cite Fairchild Tropical Botanic Garden as the source. If you do use any of our material, we would appreciate a copy of what you produce. Our images may not be included within any kind of a commercial package (such as a clip art or screen saver package). For information regarding use, contact Suzanne Kores.
Photos: Suzanne Kores, Reggie Whitehead
Copyright © 2005 Fairchild Tropical Botanic Garden, 10901 Old Cutler Road,
Coral Gables, FL 33156 USA. Phone 305/667-1651