Titan Watch 2003

Audrey III
Mr. Stinky
May 15
collapsed
May 14
closing
May 13
fully open with waves of odor
May 12
85 in / 215.90 cm
(7 ft.-1 in)
3:00 p.m. - opening begins
10:00 p.m. - full bloom
May 11
84 in / 213.36 cm
May 10
83 in / 210.82 cm
May 9
Spadix collapsed
80 in / 203.20 cm
May 8
73 in. / 185.42 cm -
Closed & spadix collapsed
5:00 p.m. EDT
77 in. /
195.58 cm
May 7
9:00 a.m. - Closing, pollen harvested
74 inches
May 6
73 inches - OPEN
69 inches
May 5
73 inches
6:00 p.m. - it is OPENING
63 inches
May 4
70 inches
57 inches
May 3
69 inches
50 inches
May 2
66 inches
46 inches
May 1
62 inches
42 inches
April 30
59 inches
39 inches
April 29
53 inches, red color starting on spathe
34 inches
April 28
49 inches
31 inches
April 25
39 inches
30 inches
April 24
35 inches
29 inches
April 23
35 inches
26 inches
April 22
33 inches, spadix visible
24 inches
Tons of Titans and Devil's Tongues
Amorphophallus titanum, gigas and other species
May 2003
Craig M. Allen, Conservatory Manager & Amorphophallus horticulturist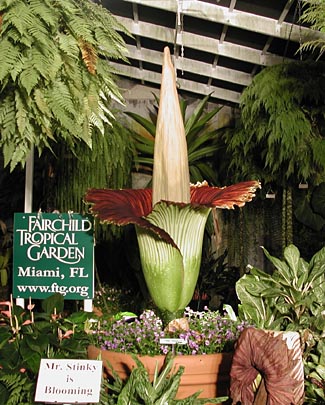 May 12, 2003, 10:00 p.m. EDT
Amorphophallus titanum, 'Mr. Stinky' in full bloom
84 in / 213.36 cm - a remarkable 7ft-1 in giant!
TitanWatch 5/12 - 5/13/03 - I climbed the ladder to do my Carrion beetle act
It's happening at last. At 1:30 there was a funny little bulge on the left side of the spathe, by 2:30 there was no doubt, Mr. Stinky is opening as fast as he can. It is now 3:45 PM and he has opened app. 20%. Majestic was the adjective used by Caroline Lewis from Fairchild's Center for Teaching & Learning.
At 5:30 it is app. 30% open. I'm waiting to catch the first hint of odor, but not yet. The first real odor I could sense was about 8-8:30 PM.
It is now 9:30 and it is very slowly building up odor. The waves are still fairly far apart. It isn't horrible, but it does make people move away from the plant when it is dispersing. Ughhhhhhhh! You don't hear it, it isn't a "fart," it just slowly envelops you in an invisible cloud of putrid gas.
I am so very tired that I'm having a difficult time enjoying the theatrical effects. I just drank a Red Bull energy drink. I know it will give me 2 hours of energy and enthusiasm. So out I go into the Temple for Titans display area. Reuters news service photographer was here earlier, now the reporter is here. Great, she brought her child. Nothing gets me talking more than explaining the Stinky's to kids. They love him in all his putrid glory. The Voice of America (VOA) reporter has been here all afternoon and chose to stay for awhile to get the full odiferous effect. He is taping a lots and lots of conversations. A number of people stayed until 10:30 PM. I had a couple of visitors, Mr. and Mrs. Gumpf, drove four hours to experience the blooming. They video taped a lot of what was going on. He even had an interview with the VOA reporter. The Gumpfs and about eight others stayed until I left at 2 AM. At midnight the Miami Herald reporter, Nicholas Spangler, and photojournalist, David Adame, showed up to record the pollination and nausea of Mr. Stinky's groupies. At 12:15 in the morning when Mr. Stinky was at full Stinkorama, I climbed the ladder to do my Carrion beetle act and applies the valuable pollen to the receptive female flowers. I had enough pollen to dust three times. Now I will hope. We popped the bottle of champagne and toasted to a fun but long night's vigil. Those that stayed together can commiserate when the world stinks. And… it did stink, but the odor was probably gone by 5 AM, not that I was here. The next morning there were hints of odor that continued, but decreasing, all day long. I expect by mid-day tomorrow that the spathe, that beautiful royal robe of burgundy (that imitates rotting meat) will begin to take on a wilted, droopy appearance. Also with in a few days the spadix will fall. …and down will come baby stinker and all.
Fairchild Tropical Botanic Garden started the Titan craze that has swept the country when in 1998, 'Mr. Stinky', produced the first documented Titan bloom in nearly 60 years in the United States. In addition to being the largest unbranched inflorescence in the world, the Titan is known for the intensely powerful stench that is released when it blooms. The foul odor, once described, as "rotting elephant corpse" is quite offensive to humans, but very alluring to carrion beetles that pollinate the plant.
Originally thought to die after blooming, this extraordinary Titan was the first in the United States to put on a second spectacular showing in May 2001. The tuber which produces the amazing inflorescence weighed 76 pounds (34.2 kg) when it was replanted on March 11th.
Dr. Odoardo Beccari first discovered the Titan Arum in the rainforests of central Sumatra in 1878. The discovery of this species ranks as one of the greatest highlights of natural history exploration. The huge bloom is often taller than a man and is produced by the plant kingdom's largest tuber. After the "flower" emerges, a singe huge leaf appears. On the first day the "flower" opens, it is ready for pollination and begins releasing the overpowering stench in waves. While the odor lasts only 8 hours, the flower blooms approximately 2 ½ days and then collapses. The Titan is the most astonishing member of the aroid family. Common known members of this interesting group include philodendrons, caladiums, calla lilies and anthuriums.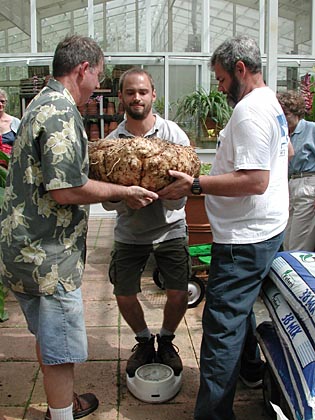 Craig M. Allen, Conservatory Manager, Mark Martini and
Steve Foreman weigh 'Mr. Stinky' tuber on March 11, 2003.
Tuber stats at repotting:
76 pounds (34.2 kg), 22 inch (55.88 cm) diameter.
Titan Tips
First discovered in 1878 in Sumatra, Indonesia.
Considered to be the most spectacular bloom in the plant world.
The Titan is the largest unbranched inflorescence in the world and can be taller than a man.
A mature bloom could ultimately measure 7-12 feet (2.13-3.66 m) in height.
A mature leaf could measure 20 feet (6.1 m) in height and 15 feet (4.57 m) in diameter.
Mature plant releases powerful waves of odor to attract pollinators.
Amorphophallus means "shapeless phallus."
The bloom will last only 2-3 days. After blooming the flower collapses.
The "stinking" odor lasts only the first 8 hours the bloom is open.
More on Amorphophallus titanum:
Aroids, Plants of the Arum Family by Deni Bown, and Aroideana, Volume 17, 1994 and Aroideana, Volume 19, 1996, illustrated annual journals by the International Aroid Society. Available from International Aroid Scoiety, PO Box 43-1853, South Miami, FL 33143 USA or call 305/667-1651, ext. 3391.
The Private Life of Plants by David Attenborough.
You are welcome to use these images for non-commercial, educational purposes such as school reports, and presentations. They may also be used freely by the media (television, newspapers, magazines, web) if you cite Fairchild Tropical Botanic Garden as the source. If you do use any of our material, we would appreciate a copy of what you produce. Our images may NOT be included within any kind of a commercial package (such as a clip art or screen saver package). For information regarding use, contact Suzanne Kores.
Photos: Craig M. Allen and Suzanne Kores