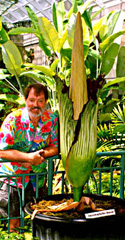 Amorphophallus titanum blooms 1998
Titan Bloom Watch:
June 6
18 inches in height
June 8
23 inches
June 9
25.5 inches
June 10
27.5 inches
June 11
30 inches
June 12
33 inches
June 13
37 inches
June 14
40.5 inches
June 15
44.5 inches
June 16
48.5 inches
June 17
52.5 inches
June 18
55.5 inches
June 19
57 inches
June 20
58.5 inches
June 21
59.5 inches
June 22
59.5 inches
June 23
59.5 inches in height
June 24
opening begins
June 25
bloom 30 inches in diameter
June 26
bloom has a wilted appearance
June 27
spadix (cone) topples
June 29
plant moved from viewing area
July 18
majestic plant reduced to a puddle
August 1
leaf emerges from tuber
September 11
leaf grows to 20 inches
September 29
leaf measures 8 feet!
December 19
leaf remains upright and strong

tuber, 14.5 in. dia., 40 lbs., 6/4/98

detail tuber and roots, 6/4/98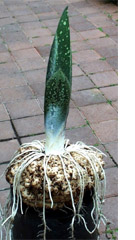 June 4, 1998
Tuber before repotting

June 11,
Height: 30 inches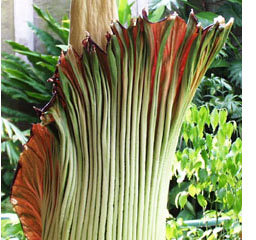 June 24, 9:00 a.m.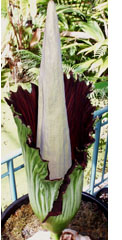 June 24, 11:00 a.m.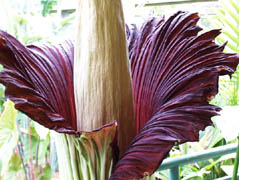 June 24, 3:00 p.m. (Click image for larger view)
June 24, 7:00 p.m. flowers hidden a base of spadix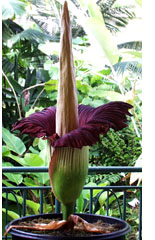 June 25, Open
Maroon spathe: 30 inch diameter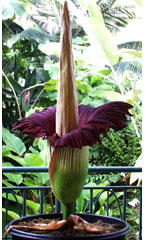 June 25, 9:00 a.m. Spathe open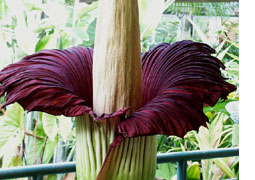 June 25, 9:00 a.m. Spathe measures 30" in diameter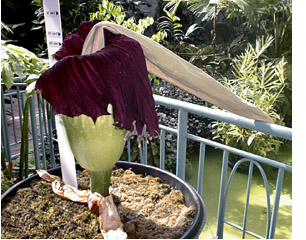 June 27, 9:00 a.m., spadix topples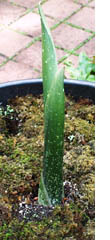 leaf, Sept 11, 20" H.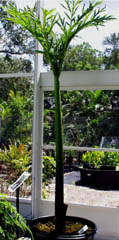 leaf, Sept 29, 8 feet H.
"Truly a Monster" is how David Attenborough described the Titan Arum, the greatest superstar of the botanical world in his book The Private Life of Plants.
This was the first bloom in Florida and only the sixth documented bloom in the United States this century! In June 1998 more than 5,500 people visited Fairchild's conservatory, Windows to the Tropics, for a look at this rare botanical wonder, while another 30,000 visited this page for a virtual tour of its rapid growth.
On June 4 the documentation of this specimen began when it was determined that the tuber was producing a flower (more accurately a compound flower or inflorescence) rather than its more common leaf form. The seed for the Titan Arum, as it is commonly called, was collected on a plant expedition to Sumatra, Indonesia by the late Dr. James R. Symon in 1993. It was planted in Fairchild's conservatory nursery where it grew leaf stalks and leaflets used to photosynthesize energy to be stored in the tuber in in the form of carbohydrates. This growth process repeated until the tuber grew large enough to produce an inflorescence.
On June 4 the tuber measured 14.5 inches in diameter and weighed 40 pounds. The Titan bloom watch began on June 6 when the plant measured 18 inches in height. One week later it had more than doubled in height. For the next three days it achieved its greatest growth rate of four inches per 24 hour period – primarily at night. On June 21 it stopped growing in height and for the next three days the base of the spathe swelled and the tightly wrapped edges began to unfurl to show its velvety deep maroon interior.
The most noticeable metamorphosis took place on June 24 when at 9:00 a.m. one section of the the spathe pulled away from the spadix.
By 11:00 a.m. the spathe was parallel to the spadix; by 3:00 p.m. it had transformed into an inverted bell shape.
It was during this process that the greatest odor was thick in the air. Reactions ranged from one woman's nausea and her quick departure from the conservatory to the comment "I wouldn't want to wear it to my prom." Fully open the spathe measured 30 inches in diameter.
The decline of the bloom was most noticeable midday on June 25 when the fully upright skirt drooped. The plant remained upright until the spadix toppled at 9:00 a.m. on June 27. Fairchild extended its hours for two days to accommodate the steady stream of visitors, many of whom were disappointed that the infamous odor did not live as long as the bloom.
August 1: We now await the leaf which has started to emerge from the tuber. Click here to see an example of a very large leaf. The people pictured below the plant are normal size. Photo by Hans Visser at Royal Botanic Gardens, Kew, England.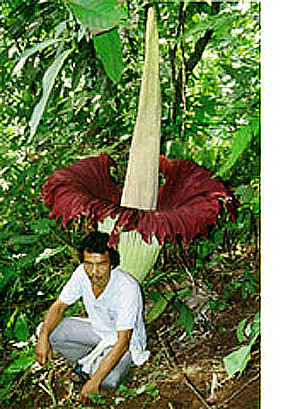 Amorphophallus titanum inflorescence in full bloom, Sumatra. Photo James R. Symon, M.D. Aroideana, Volume 17, 1994. Used with permission of the International Aroid Society, PO Box 43-1853, South Miami, FL 33143 USA.
More on Amorphophallus titanum:
Aroideana, Volume 17, 1994 and Aroideana, Volume 19, 1996, illustrated annual journals by the International Aroid Society, PO Box 43-1853, South Miami, FL 33143 USA.
What was all the stink about?
Fairchild Tropical Botanic Garden anticipated a similar sight, and was not disappointed, when Fairchild's specimen reached full bloom on Thursday, June 25.