Growth of Titans and Devil's Tongues
Amorphophallus titanum, gigas and other species
April - May 2003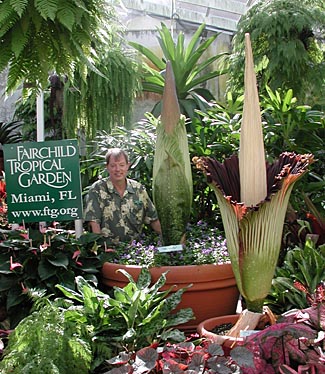 May 5, 2003, 4:21 p.m. EDT
Craig M. Allen with Amorphophallus titanum
l-r: 'Mr. Stinky' and 'Audrey III' blooming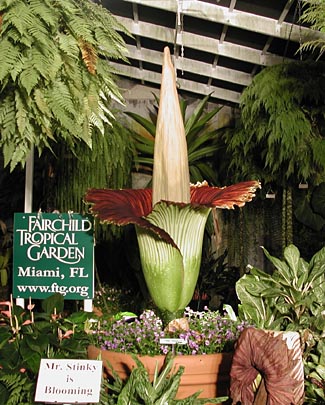 A. titanum, 'Mr. Stinky', May 12, 2003, 10:00 p.m., Full bloom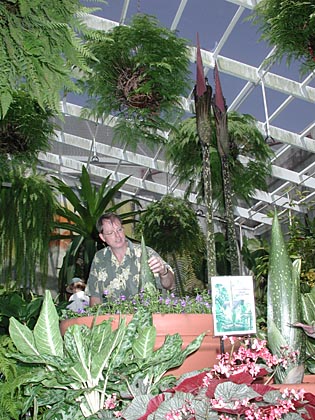 April 23, 2003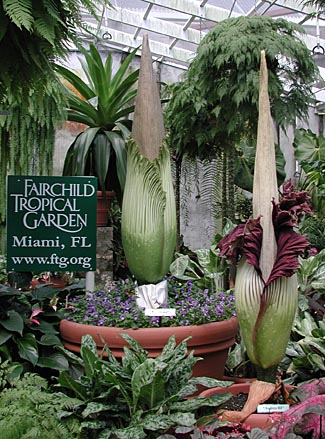 May 8, 2003, 10:30 a.m. EDT
Amorphophallus titanum
l-r: 'Mr. Stinky' growing and 'Audrey III' closed
May 12, 2003, 3:00 p.m. EDT
Amorphophallus titanum,
'Mr. Stinky' towers above two of his may admirers at 84 in / 213.36 cm - a remarkable 7ft-1 in giant!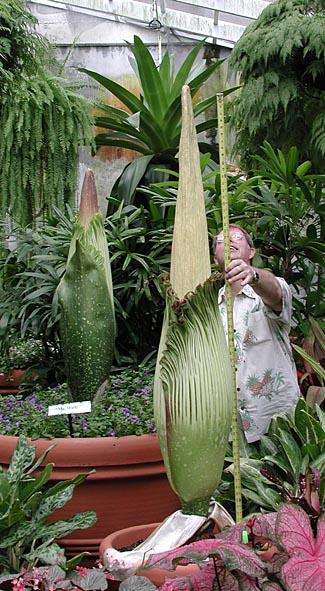 May 3, 2003, 11:00 a.m. EDT
Craig M. Allen measures 'Audrey III'
Amorphophallus titanum
l-r: 'Mr. Stinky' and 'Audrey III'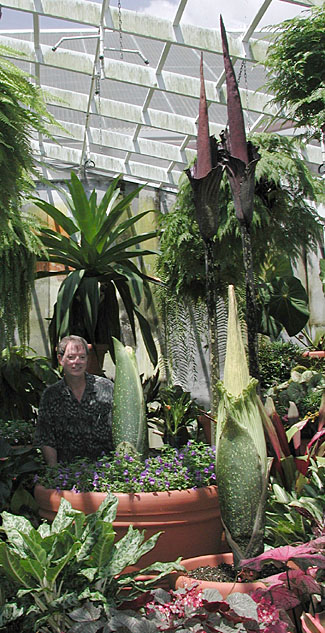 April 29, 2003
Two Amorphophallus gigas stand watch over
Two Amorphophallus titanum,
l-r: 'Mr. Stinky' and 'Audrey III'
You are welcome to use these images for non-commercial, educational purposes such as school reports, and presentations. They may also be used freely by the media (television, newspapers, magazines, web) if you cite Fairchild Tropical Botanic Garden as the source. If you do use any of our material, we would appreciate a copy of what you produce. Our images may not be included within any kind of a commercial package (such as a clip art or screen saver package). For information regarding use, contact Suzanne Kores.
Photos: Craig M. Allen, Suzanne Kores
Copyright © 2005 Fairchild Tropical Botanic Garden, 10901 Old Cutler Road,
Coral Gables, FL 33156 USA. Phone 305/667-1651