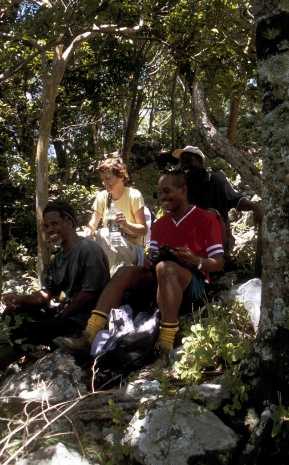 Katherine Maidman prepares palm specimens with counterpart from Dominica Botanical Garden, 2002 August.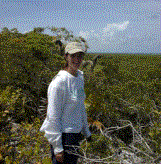 Jennifer Trusty surveys a scrub forest to determine extent of disturbance and to collect specimens for conservation genetics studies, Caicos Islands, 2002 September.
Caribbean Biodiversity
John J. Pipoly III, Ph.D., Former Director of the Center for Tropical Plant Conservation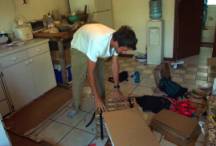 Jimi Sadle presses plants in the Caicos Islands, 2002 September.
Loss of biodiversity on islands and continental coasts of the Caribbean is driven by a variety of biological and socioeconomic forces. Islands, biogeographically isolated and politically fragmented, are still poorly understood in biological terms. Working with international partner institutions in the Caribbean, Fairchild Tropical Botanic Garden is involved in research and planning efforts to develop integrated conservation programs throughout the region.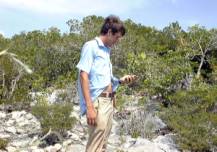 Jimi Sadle uses a global position system to note the precise locality, Caicos Islands, 2002 September.
We have an integrated approach toward understanding Caribbean plant life and its role among the total biological diversity of the Basin. We accomplish this through documenting, collecting, studying, conserving, growing, and dlsplaymg plants, and subsequently educating future scientists and the public about this complicated and critically important region of the world; a world that is in our front yard.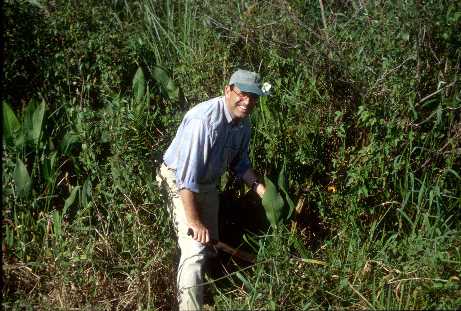 Dr. Mike Maunder, Director of Fairchild Tropical Botanic Garden
Within the Garden's integrated program, the Center for Tropical Plant Conservation is making great strides in better understanding the origins, diversification and management of plant diversity across the Caribbean Basin, including South Florida and the continental coasts of Mexico, Central and South America. We accomplish this through participation in regional networks, such as the Center for Plant Conservation, Mesoamerican and Caribbean Network of Herbaria, Caribbean Botanical Gardens for Conservation, Consortium for Excellence in Tropical Biology, as well as a host of respective bilateral agreements between the Garden and individual islands or countries.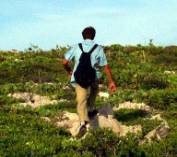 Jimi Sadle surveys a rocky scrub formation behind the beach to determine if endangered beach morning glories can be found, Caicos Islands, 2002 September.
Our study of floristics, inventories of plants in a given place or environment, is growing. We have worked with the Cayman Islands, whose herbarium we already host, as well as in the Turks and Caicos Islands. Fairchild Tropical Botanic Garden is an administrative coordinating center of the Flora of the Greater Antilles Project; the leading administrative institution for the Flora is the New York Botanical Garden, and the leading editor for the vascular plants is Pedro Acevedo of the Smithsonian Institution.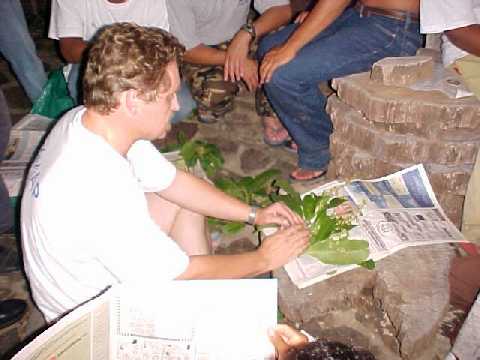 Dr. John Pipoly teaches staff of Jardín Botánico de Lancetilla, Honduras to press herbarium specimens in 2002 September.
Our herbarium, "FTG," is gradually growing in collections from the area, and is stepping up exchange with our sister institutions, thanks to the efforts of Dr. Lauren Raz, former Curator, supported by Lynka Woodbury, Manager and the many volunteers who devote thousands of hours per year to it. The Virtual Herbarium is constantly consulted by local, regional, national and international peers; we are focusing our collaboration with the Flora of the Greater Antilles Consortium and the Mesoamerican and Caribbean Herbarium network.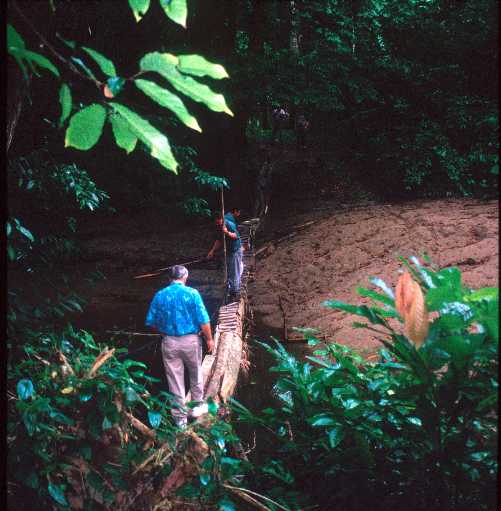 Dr. Bryan Latham negotiates a crude bridge over a river in Honduras, 2002 September.
Many areas of the Caribbean have a colonial history and the earliest specimens which authors used to name the species, are in European herbaria. These critical specimens are called "type specimens" and are priceless. They are generally loaned only to major world institutions whose buildings have disaster mitigation plans and whose environment is archival. Through study of the images, many of the specimens can be verified and their data used by a researcher working on a specific region or family, without borrowing the specimen. In many cases, if high-resolution images are available, even type specimens can be studied, at least for accounts of which species occur in a region (a flora). Therefore, a Caribbean Virtual Mega Herbarium would mean that the same specimen could be on "virtual loan" to two different botanists in far distant institutions simultaneously. It also reduces the necessity of expensive travel to those herbaria, except for study of limited, critical specimens.
Systematics student Jimi Sadie carried out a systematic study to determine the genealogy and distribution of the genus Tolumnia, a Caribbean orchid. He has numerous collaborators throughout the region.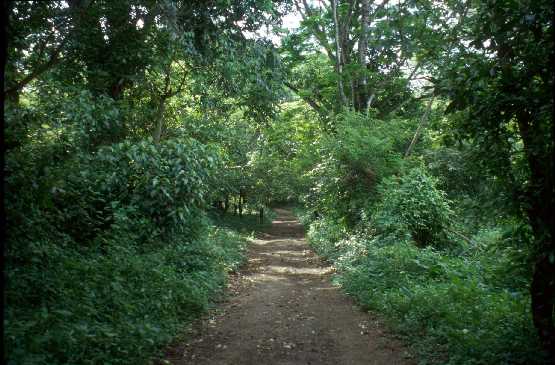 Lancetilla BioReserve is the last remaining intact lowland forest in Honduras.
As a founding member of the Center for Plant Conservation, we care for endangered species from Puerto Rico and the Virgin Islands, as well as other projects with them. Our projects in seed biology at the Seed Laboratory are yielding important information about the germination and seed storage potential of tropical plants and of palms in particular. The graduate students whose thesis projects lie within the program have been an integral part of its success and been a great source of pride to us.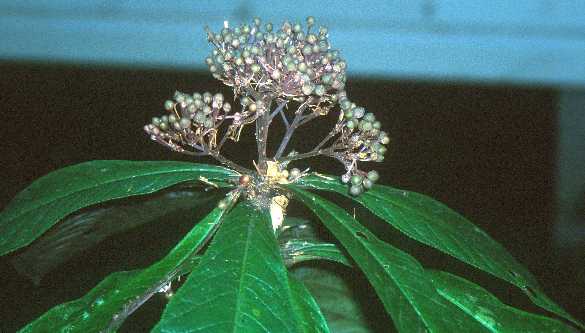 Ardisia pellucida subspecies lancetillensis, new to science, and restricted to the Lancetilla Biological Reserve, Honduras, was found by Fairchild and Lancetilla staff in 2002 September and published.
The conservation group was asked to join with several of their foreign counterparts in the Caribbean to assist in designing a homologous model for their respective threatened habitats and to jointly develop further projects. We have a project in the works with the Caribbean Coastal Area Management Foundation for biodiversity assessment and impact mitigation design in the areas surrounding Hellshire Hills, Jamaica. Dr. Jack Fisher, Senior Research Scientist and head of our plant structure and function lab, has focused on root biology as one of his critical areas of study. His investigations of the relationships between root-residing fungi (mycorrhizae) and endangered plant species growing in alkaline soils have been landmark studies in Florida and elsewhere. Proposals we are designing for floristic surveys will include initial gathering of root samples for critical species that may then be studied by students from the country where we do the work under Dr. Fisher's direction.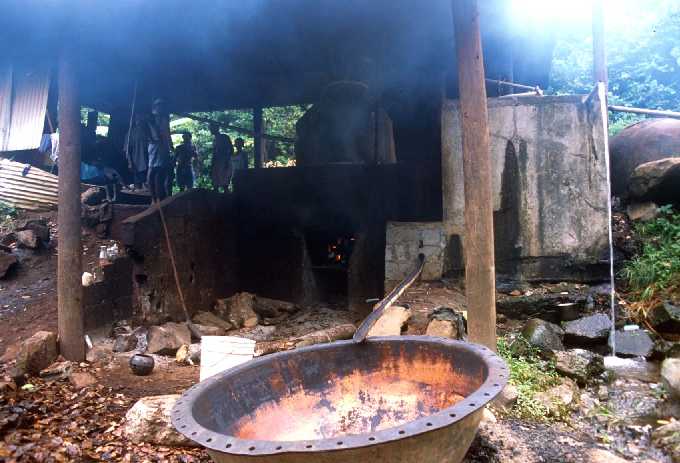 Bay Rum (Pimenta racemosa) distillation operation, Dominica 2002 August.
Caribbean work in the molecular systematics lab, under the direction of FlU/FTG scientist, Dr. Javier Francisco-Ortega, included study of the daisy family throughout the Caribbean. Other Caribbean research done with our Caribbean partners further enhances our capacity to analyze the origin and complexity of the Caribbean flora, including: Jennifer Trusty's parallel study of the flora of the Isla de Coco, on Costa Rica's Pacific coast, Dr. Gerald Guala's Caribbean bamboo work, Drs. Scott Zona and Carl Lewis' palm work, Jimi Sadie's orchid work, and finally my work on the Myrsinaceae (marl berry family) and a part of the St.John's wort family. Once further biogeographic (distribution) principles are tested, we can document the Caribbean flora, understand its diversification and ultimately, management and conservation. Then we can help select the species that show the greatest number of biological, horticultural, cultural and other phenomena possible, allowing the Garden's living plants display to serve a myriad of purposes.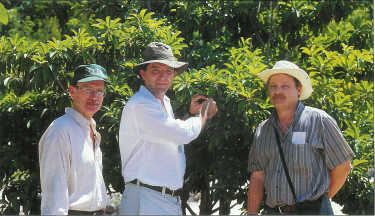 Dr. Brian Bloom of the New York Botanical Garden, Dr. Gerald Guala, and Dr. John Pipoly examine a Sideroxylon zapata (chicle) tree at the Punta Cana Biological Station in the Dominican Republic.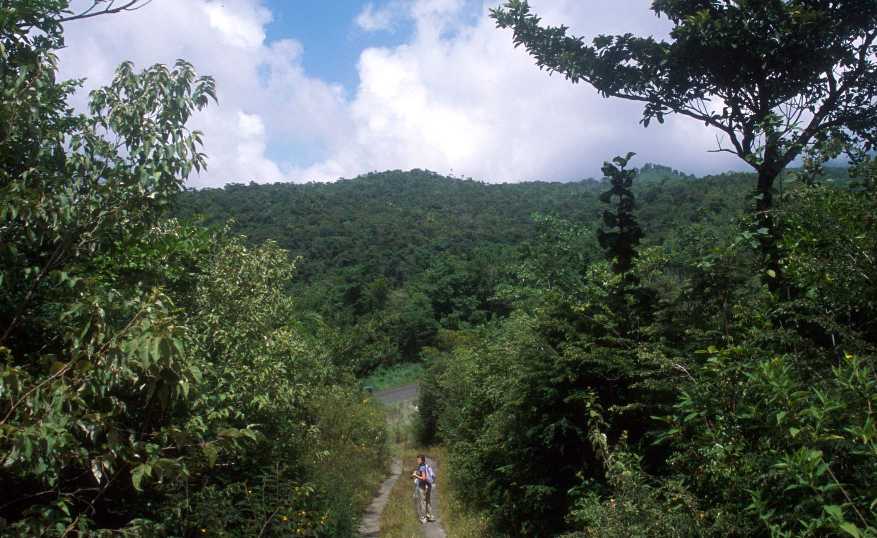 Seasonal dry forest hosting many unique species, Dominica 2002 August.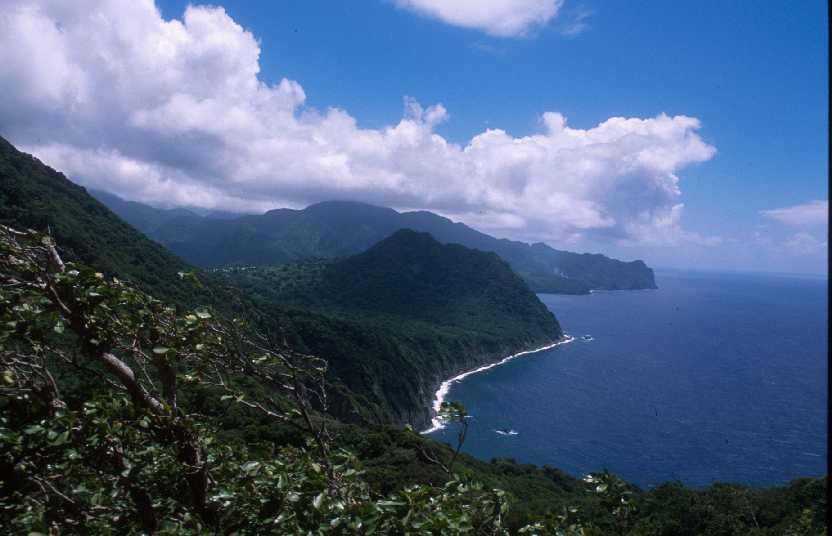 Southern shore of Dominica with remnant forests in conservation zones, 2002 August.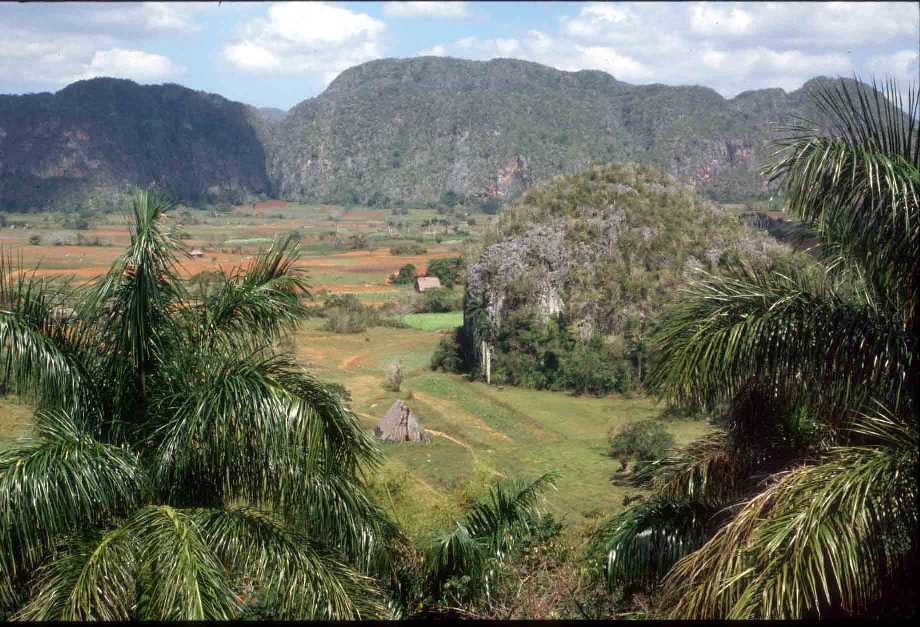 Vista of limestone mountains "Mogotes" 2003 March