Tropical Africa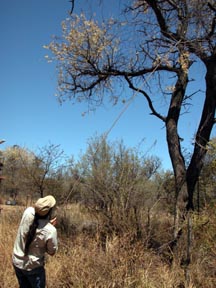 Dr. Gerald Guala collecting leaves and fruits from an Acacia using an improvised pruning pole. Zimbabwe 2003 September
Africa contains some of the world's most spectacular habitats and some of the worlds most diverse and threatened plant communities. These habitats support millions of people through providing food, medicine, timber, grazing and building materials. Fairchild is working to conserve this extraordinary cultural and biological heritage by supporting local projects that are managed by local teams. This work is taking place in the great rainforests of Cameroon, the sacred Kaya forests of Kenya and the sweeping landscapes of the Masailand beneath Mount Kilimanjaro.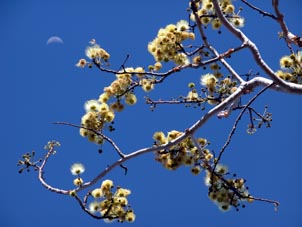 Albizia tanganyicensis, one of few trees flowering in the upland deciduous forest in spite of the severe drought. Zimbabwe 2003 September
Fairchild Tropical Botanic Garden is working with international partners to help save some of Africa's most magical and threatened habitats. The joint Fairchild and Florida International University Molecular Laboratory in the Center for Tropical Plant Conservation is undertaking conservation genetic studies of some of East Africa's rarest trees and cycads, including the critically endangered Hibiscus schizopetalus. Fairchild is supporting Kenyan botanists to study and conserve the plants of the Kaya forests on the coast of Kenya, one of the world's most threatened habitats and part of the East African biodiversity hot-spot. Dr. David Fairchild visited West Africa in the 1920s and worked at the Limbe Botanical garden in Cameroon; Fairchild is now working with the management of the this beautiful garden and assisting them in research and development projects. In addition we are active supporters of the African Botanic Garden Network and are supporting the training of African students.