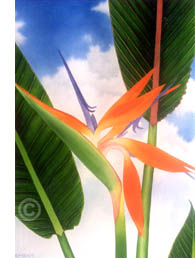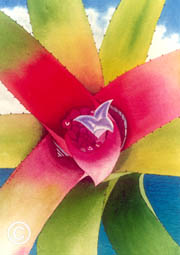 Tropical Treasures: The Paintings of Lisa Remeny
April 23 - 25, 1999
For a current calendar of exibits and more information visit www.lisaremeny.com
Tropical Treasures: The Paintings of Lisa Remeny, featured a collection of bold tropical watercolors and elegant oil paintings inspired by the fabulous plants and flowers of the Caribbean. Cancel that trip to the islands. Surrounded by Remeny's paintings you'll discover the tropical skies that truly capture the spirit of this unique region.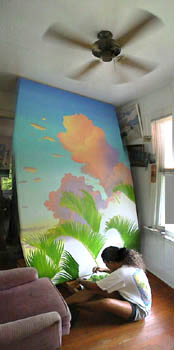 Lisa Remeny, a graduate of California College of Arts and Crafts, Oakland, found that her training in photography and film making was too impersonal. A direct approach to creating was more satisfying and after literally dropping her camera in to the sea she embarked upon a career in painting. It was 1980 and she found herself in Jamaica, immersed in learning how to paint shades of green. Life there was simple and she could concentrate on observing the play of light on water, sky, leaves and flowers. The movement of light across her chosen subjects, bromeliads, gingers, hibiscus, heliconias, orchids, bottle palms and birds of paradise, is reflected in large areas of color and the subtle details. Landscapes incorporating sunset, sunrise and moonlight employ her trademark line contour drawings. This technique of drawing is done by looking only at the subject and not at the paper.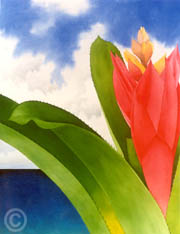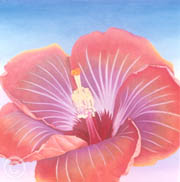 Her interest in the arts was inspired by her grandmother, an accomplished milliner, who attended Pratt Institute of Art, and by the guidance of three art teachers during her early life in the Miami-Dade school system. Remeny, who now resides in Coconut Grove, Florida, has been exhibiting her paintings since 1979 in Antigua, California, Hawaii, Jamaica, Naples and Fort Pierce. In her twenty year career this was her fifth one-person show in Miami. Additionally, people around the world have been enjoying and collecting her work in the form of greeting cards. More than one million cards have been distributed worldwide, including Japan, Fiji, New Zealand and Africa, and in the non-tropical northern climates of Sweden, England, Scotland and the Netherlands.