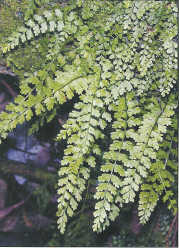 Asplenium X biscayneanum, once thought extinct, was rediscovered in a yard landscaped with natives.
Native Landscaping
Kristie Wendelberger, Field Botanist (photos by the author unless noted)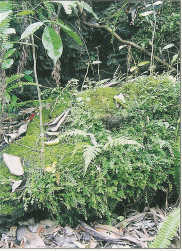 A rare fern, Asplenium dentatum, shares a limestone rock with other natives.
We now have proof that native landscaping and maintaining native substrate on private property really works in the preservation of rare and endangered plants! Homeowners in a local neighborhood, having seen the beauty in the native South Florida ecosystems, have been proactive in preservihg the limestone substrate that forms the nooks and crannies needed by many rare and endangered species. They try to remove only what is needed for building their homes and managing invasive species on their properties. Because these homeowners placed nature before traditional lawn care, two rare South Florida ferns have another documented location and another, once thought extinct, has been rediscovered.
A resident of this neighborhood, Garden member Bobbe Dooley, was contacted about the possibility that toothed spleenwort (Asplenium dentatum), modest spleenwort (Asplenium verecundum), and Biscayne spleenwort (Asplenium X biscayneanum) grew in her wooded yard. She welcomed biologists from The Nature Conservancy, The Institute for Regional Conservation and Fairchild Tropical Garden to search for the ferns. Not only did she allow us to come into her front yard to inspect the limestone rock face and giant solution hole she has proudly preserved, but she also has been pivotal in helping to contact other property owners within the neighborhood that have preserved their native topography and could potentially be the stewards of these rare ferns. Everyone contacted has encouraged our searches. They are curious to identify which of the many ferns in their yards are the rare spleenworts.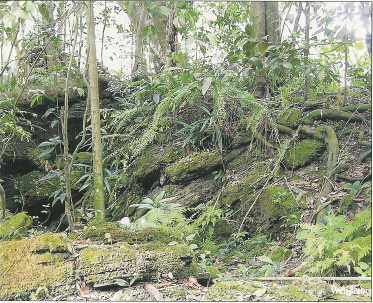 Limestone outcrops and caves provide habitat for native plants.
Thanks to the efforts of all the property owners, all three spleenworts were found in one of the yards in the neighborhood. The rediscovery of A. X biscayneanum, a hybrid formed between Asplenium dentaturn and Asplenium verecundum, was especially exciting. The toothed spleenwort (A. dentatum) was found on several properties. We will continue monitoring these populations and work to establish an ex-situ collection at Fairchild to ensure their survival in South Florida.
How inspiring it is to know that one neighborhood landscaping natively can make such a difference. It is a joy to watch these species flourishing with other natives in their natural environment!
Garden Views Spring 2004