This pretty blossom is the flower of the crenulate lead plant, Amorpha herbacea var: crenulata, an endangered species. Fairchild scientists and volunteers worked together to release this plant into the pine rock lands of Miami-Dade County.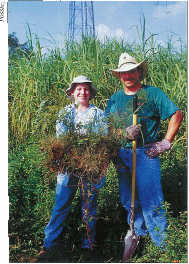 Many of the plants we planted on October 5, 2002 were rescued in August from a site that is slated for development.
Endangered Plants Released
Meghan Fellows, M.S., Former Field Biologist
Perhaps you might think releasing an endangered species into the wild is an uncommon occurrence, but here at the Fairchild Tropical Garden Research Department, we take it in stride — well, almost. With the help of 57 volunteers who donated more than 360 hours of labor — and I mean labor, we were digging in solid rock! — we managed to plant 118 individuals of one of our favorite endangered species — the Crenulate Lead Plant (Amorpha herbacea var. crenulata). Called the lead plant because of an historic belief that plants of this genus indicate metals in the soil, our local lead plant is imperiled. A combination of a restricted natural distribution and burgeoning development has reduced the available habitat for this species.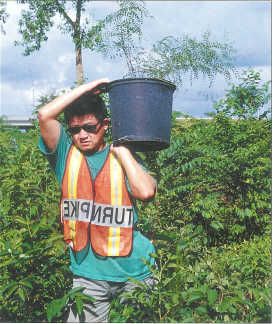 Seemingly minor things come into play to create a restoration activity like this, but the role filled by the volunteers was certainly not a minor one.
This pretty purple or white flowered perennial is a favorite at Fairchild plant sales — many of you may have been lucky enough to purchase one at a Members' Day Plant Sale. In addition to distributing the species, Fairchild is also working to conserve this species in its natural environment. There are currently five natural populations, and two introduced populations of this species, totaling less than 1,000 individuals in the world. Conservation in the natural habitat is important for all native species and critical for endangered species. It is often not enough to encourage people to grow native species in their front yards.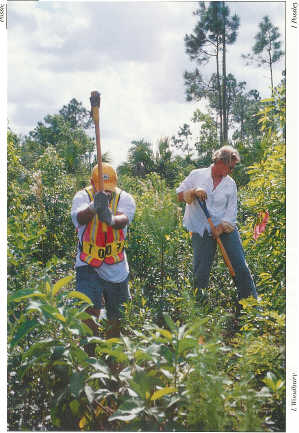 Planting the lead plant has convinced some to have "a stronger feeling about nature". Another volunteer put it succinctly "I helped dig holes and water them (the lead plants), which is not as easy as it sounds".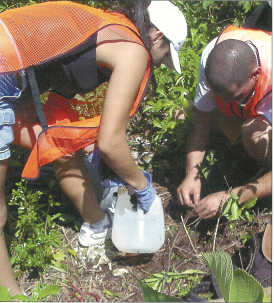 The impact of the release is far-reaching. Friends of Larissa, one of our official waterers, came to the Garden in search of an Amorpha flower. The tram driver thought it was the Amorphophallus they were in search of but no, Larissa had convinced them to see the Amorphain bloom.
Bearing shovels, picks, water and plants, the "Amazing Amorpha Plant Rescue Volunteers" worked tirelessly to plant 118 lead plants. Plants were salvaged from a population that is being developed (another volunteer effort) or generated in Garden greenhouses for restoration purposes. Volunteers came from many organizations, including the Florida Native Plant Society, Miami-Dade Community College, the Florida Department of Transportation, Turnpike Division, and Florida International University and included regular Fairchild volunteers, spouses, children and friends.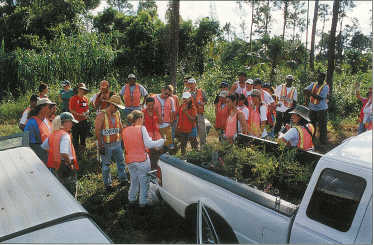 More than 35 volunteers lent a hand to plant 118 lead plants.
Many of the volunteers commented on how much they appreciated having so many people working together to accomplish this one task. Despite the near-epidemic proportions of volunteers who broke out in poison ivy — "My poison ivy has turned into a disgusting mess and it is still popping up in new places!" one volunteer wrote me via email — the sheer numbers of people who participated in this project was one of the most gratifying aspects.
A heartfelt Thank You! to the volunteers who first rescued these plants and then released them too!
P.S. For all those who asked - the plants are doing fine!
Garden Views Winter 2003