Fire and the South Florida Coastline
Samuel J. Wright, Field Biologist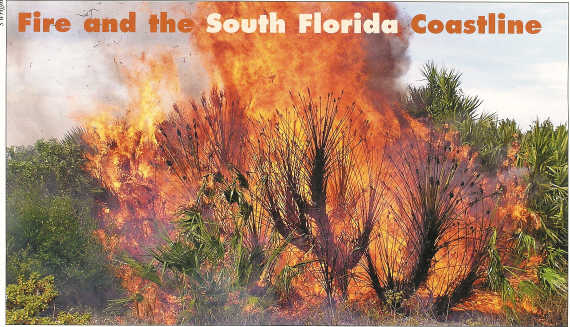 Flames of burning saw palmetto (Serenoa repens) reach almost 35 feet high.
When driving down Route AlA, it is hard to imagine that the South Florida coastline was once a continuous strip of native vegetation. It is even harder to imagine the abundant wildlife that once roamed its shoreline: sea turtles, the Florida panther and black bears. Bears? Yes, bears! These displaced and extirpated animals lived along with native plants in the natural coastal dune ecosystems that were maintained by periodic storms, hurricanes and fire.
Trained prescribed-burn personnel use a drip torch method to start fires.
Burn personnel look on while fire burns through wetland grasses in a restored pond.
Fire was once very common along South Florida's dune and coastal strand communities. Lightning-caused fire was believed to have occurred every four to five years along the barrier islands, maintaining the integrity and openness of coastal strand habitats. Fire roamed freely until halted by natural barriers such as water, hardwood hammocks or recently burned areas, which had insufficient fuel for fire. Through the years, periodic burning combined with factors such as salt spray and wind to form a patchy mosaic of vegetation - habitat favorable to the wildlife that once lived there. Plants existing in these fire dependent communities demonstrated an ability to recover quickly following a fire.
Over 4,000 beach peanut (Okenia hypogaea) seedlings germinated out of season after an arson fire in a nearby park. Seedlings were first observed 11 days after the fire.
O. hypogaea flowering after fire. It has not been seen in this portion of the site in five years. It is hypothesized that germination was facilitated by the disturbance of the fire.
In the United States, Florida is second only to Hawaii in the number of endemic plant species it has, and its coastal habitats are no exception. Presently 22 endemic plant species occur along the Florida coast. Within the past century, the vegetation structure and composition of South Florida's coastal strand has shifted from an open habitat with high floral diversity to a closed-canopy hardwood hammock with low species diversity. This change has endangered some of the rarer species. South Florida land managers recognized this grave situation and have implemented management plans to open up coastal strands and restore plant diversity.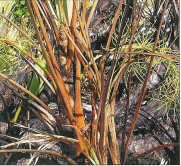 The inflorescences from saw palmetto (Serenoa repens) were produced less than three weeks after the burn
Prescribed burning is now a widely accepted management tool to reduce fuel loads, manage exotics and restore native species to the composition of Florida's natural habitats. The method of prescribed burning (see Garden Views, November 2001) has been well documented and tested within pineland communities. However, other than in the Florida keys, prescribed burning had not been tried in a South Florida coastal natural habitat. This changed on January 17, 2004, when the Florida Department of Environmental Protection conducted a prescribed burn on 16 acres designated for coastal strand restoration at Bill Baggs Cape Florida State Park on the southern end of Key Biscayne. Fairchild Tropical Botanic Garden biologists were invited to participate by monitoring the effects of the fire on the strand vegetation and acting as observers during the fire.

Fire burns slowly through sea grape (Coccoloba uvifera) leaves.
Every possible safety precaution was taken before, during and after the fire. Before the burn, a meeting was held with nearby residents to answer their questions and address their concerns. Police and fire officials were notified. During the burn, crews maintained constant communication and winds were monitored for sudden changes. Other than one phone call, there was no alarm from nearby residents. In fact, beach patrons on the other side of the park were oblivious to the 16-acre blaze that burned just a quarter mile from them.
Fairchild researchers are collaborating with Cape Florida staff to monitor the effects of the fire on the vegetation over time. One month after the burn, the vegetation had responded well, with vigorous new growth and flowering by fire-tolerant species such as saw palmetto (Serenoa repens) and cabbage palm (Sabal palmetto). This was the first official prescribed burn in coastal South Florida - we hope it will not be the last. So do the native beach plants that thrive in this habitat that is naturally fire-maintained.
For more information
Austin, D. F., K. Coleman-Marois and D. R. Richardson. 1977.
Vegetation of southeastern Florida. II-V.
Florida Scientist. 40, 331-361
Johnson, A.F. and M.G. Barbour. 1990.
Dunes and maritime forest. Pp. 429-480
In R.L. Myers and J.J. Ewel (eds.). Ecosystems of Florida.
University of Central Florida Press, Orlando.
Garden Views Summer 2004