Fire and a Tiny Plant
Meghan Fellows, M.S., Field Biologist
Jennifer Possley, M.S., GIS Technician, Field Biologist
Cynthia Lane, Ph.D., Former Conservation Ecologist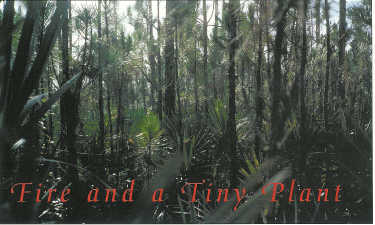 If pine rocklands don't burn for more than 10 years, Pinus elliotti crowd out all the other species, including Polygala s
We've all heard of the latest battles to halt wild fires out west. Many residents of South Florida don't realize that we are waging the opposite battle with fires right here - we want them! Our native ecosystems, including pine rocklands and sawgrass prairies, are thought to have been formed by fire. Frequent fires on the Miami rock ridge (a strip of elevated land that extends north from Long Pine Key in the Everglades to just south of the Broward County line) (Garden News, November 1999) were the driving force in the evolution of the fire-tolerant plants that characterize the pine rockland plant community.
The role of fire in South Florida is critical for maintaining healthy rockland ecosystems. Historically, lightning strikes were the primary factor in starting fires (Florida has more thunderstorm days than any other state in the continental U.S.) Having recognized that many important foods, including coontie (Zamiapumila) (Garden Views, November 2000) grow better in a post-fire landscape, the Native Americans also set fires in suitable areas of the rockland ecosystem.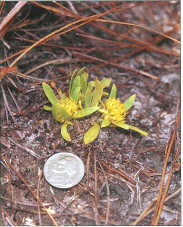 Although it may look like Polygala smallii has just a few flowers, the inflorescences are actually made up of hundreds of bright greenish-yellow flowers, contrasting with the bluegreen leaves.
As the South Florida population grew, development of infrastructure and housing on the Miami rock ridge caused natural ecosystems to become fragmented. Continuous stretches of pine rockland were divided by roads, resulting in less frequent fires. Today, lightning strikes no longer burn acres of rockland because each fire can only burn the small area where it occurs, often less than two acres. This situation decreases the probability that any pine rockland fragment will burn as often as necessary to maintain plant diversity in the ecosystem.
In the absence of fire, local fire-dependent ecosystems begin to convert to dense forests, exacerbated by the invasion of plants like Brazilian pepper (Schinus terebinthifolius) and cane grass (Neyraudia reynaudiana). These exotic plants crowd out native plants, and destroy the natural functioning of our rockland ecosystems. Many exotic plants are also more flammable than native plants, creating hotter, more destructive fires when the inevitable lightning strike starts a fire. Miami-Dade's Natural Areas Management and Department of Environmental Resource Management are working to remove exotic plants from local protected areas, but, without their natural predators, these invasive plants out-compete many of the native species.
An alternative to natural fires is to "prescribe" fire for the unhealthy ecosystem. Prescribed burns are used effectively to help manage the pine rockland ecosystem. However, homeowners are seldom comfortable with the idea of a fire near their property. Although prescribed fires rarely spread beyond their carefully managed control lines, the few that do draw disproportionate media attention.
However, prescribed fires have very real advantages: they are safer than lightning ignited fires, as they are controlled from the time they are set; they can remove excess vegetation in an area, making future fires less intense; and their lower intensity and slower pace make prescribed fires less harmful to wildlife.
Fire has other important benefits for native vegetation. Coontie and most other pine rockland species depend on fire (either heat or smoke) for germination, reproduction or dispersal.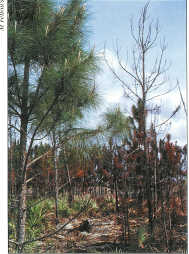 Although wildfires do kill some trees, they make more space for the surviving Pinus elliottii and other species in the pine rock land to grow.
Researchers working in the South Florida Plants and Environment Conservation Program are studying a diverse set of fire dependent plants in our pine rocklands, like the tiny polygala (Polygala smallii). Tiny polygala is a federally endangered biennial that is usually less than two and a half inches tall. This plant is most showy September through November, at the peak of its flowering, but even so, you must look closely or you'll miss it. Although tiny polygala grows in fire-dependent ecosystems, its relationship with fire is complex; fire kills adult plants, yet their habitat is only created as a result of fire, and seeds may require smoke to germinate. Conundrums like this make working in conservation a challenge!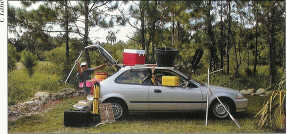 We are now ready to incorporate all the hard work of previous researchers, including Suzanne Kennedy (former Assistant Conservation Horticulturist), Susan Koptur (professor of Biology, Florida International University), Kit Kernan (former Conservation Ecologist, now at The Nature Conservancy) and many others into a conservation management plan for tiny polygala and the pine rockland ecosystem. The success of the plan in conserving this rare species will depend upon a clear understanding of the relationship of tiny polygala with fire. Because it is difficult to obtain permits for prescribed burns, we are working with Miami-Dade Natural Areas Management and the U.S. Coast Guard to investigate alternative management techniques. Our current study is designed to mimic the result of fire by removing exotic species and excess leaf litter, and, most importantly, thinning overly dense pine and saw palmettos. We will be looking at many aspects of the pine rockland community, not just tiny polygala, to ensure that our management technique does not have any undesirable affect. For example, we will also monitor species diversity to evaluate the effect of these management treatments. Overall, we hope to increase species diversity, increase numbers of flowering tiny polygala, and return some of the pine rockland functions to the ecosystem. As always, it is a challenge to preserve endangered species in a densely populated landscape, but we hope that this study can serve as a paradigm for the more than 500 endangered plant species in Florida in need of research, management and protection.
Garden Views November 2001