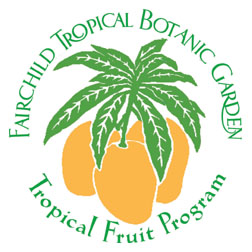 Mango Recipes
Noris Ledesma, Curator of Tropical Fruit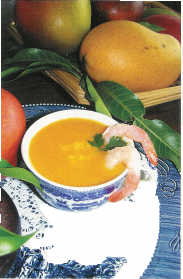 Mango Soup
(6 servings)
2 large ripe mangos, peeled and cut
1/2 cup plain yogurt
1/2 cup homemade or canned chicken stock
1/2 tablespoon fresh lemongrass, chopped
1/2 tablespoon fresh ginger, grated
2 tablespoons cilantro, chopped
Large shrimp
Puree mango in a blender and add the ginger, lemongrass and chicken stock. Stir in the yogurt. Chill, and garnish with cifantro before serving. Decorate the dish with large shrimp.
A Taste of Old Cuba: Bizcochuelo Style
The mango: no other fruit has the historic association, or is so inextricably connected with the folklore of the great people of Cuba. Since the early 1700s when the mango arrived in Cuba from Jamaica, it has been one of the nation's favorite fruits. With so many tropical fruits and abundant sugar in Cuba, you can only imagine the wonder of the 'Bizcochuelo' mango of Santiago de Cuba, a succulent fruit that you can squeeze and enjoy fresh or as a milk-shake. There are several other races of Cuban mangos. The 'Filipino' was traditional in Cuba and later was popular in Mexico, and eventualy Florida. It is a delicious mango loved to this day throughout the region. The 'Mango Chino' of the Quinta Aviles at Cienfuegos, 'Manga Mamey' well known in Havana, or the 'Manga Amarilla' and 'Manga Blanca' (the yellow and white mango, respectively) are just a few of the wondrous mangos found on the island.
Not only is Cuba blessed with the mango, nature's candy, but its culinary dishes are filled with wonderful flavors.
Bizcochuelo Mango Recipe
Courtesy of Cocina Cubana /Mama China
(Serves 6)
1 liter of milk
1/4 teaspoon of salt
1 cinnamon stick
10 egg yolks
1 cup sugar
3 tablespoons flour
1 teaspoon vanilla
4 large mangos
1 jar strawberry jam
Whipped cream for garnish
Mango: Peel and slice ther big pieces.
Place tne mango slices in a heavy oven medium heat and add 1 cup of sugar. Bring to a boil. Lower the heat and simmer for about 20 minutes, stirring frequently. Heat the milk and add the cinnamon stick and the salt. Whip the yolks with sugar and the flour. Stir the milk into yolk mixture slowly so that it does not cook the egg. Sift the whole mixture into a pan and heat again, stirring constantly until the mixture becomes creamy. Chill. To serve, use a dessert cup and alternate layers of cream, mangos and marmalade. Top with whipped Cream.
Mango Salsa (By Leila Barns)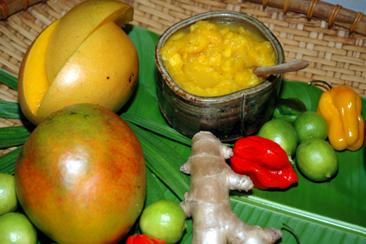 2 Large Mangos – diced
1 inch piece of Ginger- grated
Cilantro-bunch (about ½ cup)
Purple onion - ½ large
2 jalapeno peppers-seeded and finely diced
Dash salt
Lime juice-to taste
Combine all ingredients and serve with corn chips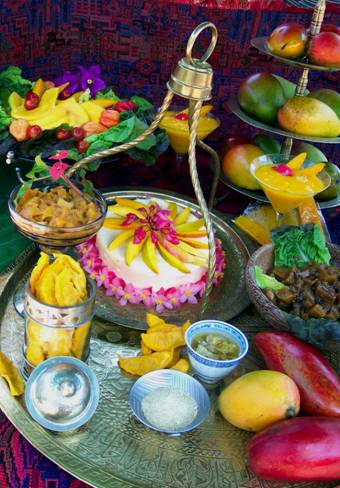 Green Mango Marmalade (By Richard J. Campbell)
This sweet mango preserve is just right as an accompaniment to your favorite bread. Mango cultivar selection is key, requiring firm and green mangos. The best cultivars are 'Nam doc Mai', from Thailand and 'Carabao' from the Philippines.
Ingredients:
4 cups of mango
2½ cups of sugar
¼ cup of water
1 tsp. of ginger (optional)
Wash and peel the mangos. Then cut the mango in squares and cook until soft. Add sugar to the mango and leave it on the maximum temperature while stirring constantly. Add the Sure-Jell or pectin source and mix it entirely. If you prefer, you can add grown ginger.
Mango Pickles
Spicy mango pickles are an ancient tradition in Indian cuisine, providing a flavorful accent to flat breads and savory dishes. Mango pickles can be made from either whole mangos or mango pieces. In addition, removing some of the tiny fruits is a healthy technique for the mango trees, we recommend that you remove up to 25% of these fruits. These are can be used to prepare Pickles.
Ingredients:
5 cups of small mangos
3 cups of fruit vinegar
1 cup of sugar
5 tsp. of salt
Aromatic herbs to taste
Jalapenos and peppers (optional)
Wash the mangos to eliminate unnecessary substances. Cut them in vertically in half and take out the seed. In a pan, boil the mangos in water for 3 minutes. After, take out the water and add the vinegar, salt, and sugar. Leave it boiling for 10 minutes more and add the rest of the ingredients.
Mango Smoothie
1 cup of mango pulp from fresh ripe mangos
1½ cups of ice
2 tsp sugar
Mango Chutney (By Leila Barns)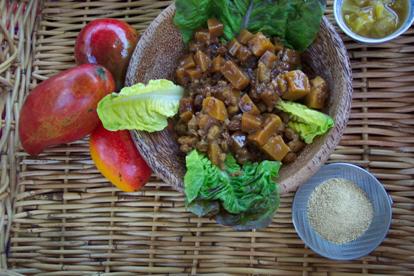 Ingredients:
4 cups Ripe "Tommy Atkins" mango
4 cups green mango
½ cup apple vinegar
1½ pounds brown sugar
2 tsp salt
2 large onions- diced
3 tsp. mashed garlic
4 tsp. Allspice seeds (cinnamon, cumin, mustard, paper)
2 fresh green jalapenos - quartered
2 tsp. grated fresh ginger
1 cup dark raisins
Mango: hard, ripe, peeled, seeded and sliced. Place all ingredients in heavy saucepan over medium heat. Bring to boil. Lower heat and simmer for about 20 minutes, stirring frequently. Remove from heat, cover, and let stand for about 12 hours. Again bring to a boil, lower heat, and cook for 15 minutes, stirring frequently.