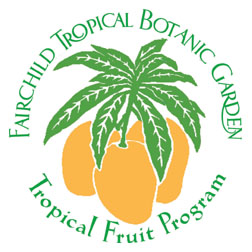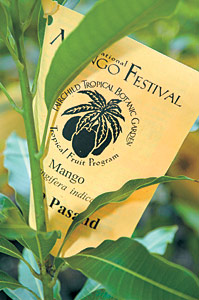 The Philosophy of Mango Tree Management
Richard J. Campbell, Ph.D.
Senior Curator of Tropical Fruit
We began our new-look approach to mango tree management with a simple premise. What everyone in the world deserves is a productive and high-quality mango that suits their needs in terms of horticultural care, taste, season and ultimately usage. By traveling the globe to collect new cultivars and horticultural ideas, we have slowly formed our approach. Somewhere along this path we struck an unexpected and somewhat overwhelming cord among the mango public. One of the greatest challenges to our mango mission has been to retain control in the face of increasing interest, and not allow it to control us. We realize now, years after our foray into mango madness, that we have a tiger by the tail. Let us take a short step back to clarify some misconceptions and ultimately enhance our gain and our enjoyment of the mango experience.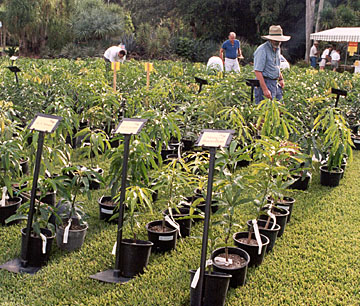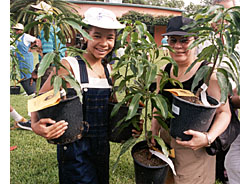 Cultivar
Along these lines we are not satisfied, there being many miles before we rest. We have not found the perfect cultivar to suit everyone's needs, nor will we ever. However, what we have developed is a suite of quality cultivars, embodied in the Curator's Choice program, that offer outstanding advantages in terms of tree size, management, production reliability, and fruit quality. These cultivars, 'Ice Cream', 'Lancetilla', 'Rosigold' and 'Vallenato' all hold a prominent spot in my personal home garden. They serve my needs. However, this should not be enough reason for you the mango consumer to plant one or all four of these cultivars. It is really a matter of personal taste, needs and demands. There truly is no accounting for tastes or preferences. You must know your own, do your homework and make your own choices. We can recommend, but you ultimately will decide.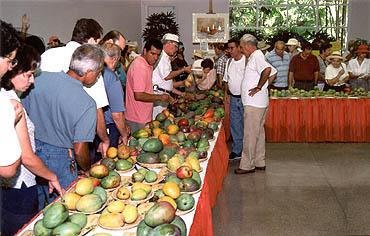 Philosophy of Management
This is perhaps the most misunderstood area of our efforts, and one that causes the most personal soul-searching within the Curator. In order to attain the ultimate potential from your mango trees and hence, the ultimate in enjoyment, you must first put in the effort. The management principals that we preach are not highly complicated, nor do they require higher degrees in horticulture to attain. However, what they do require is a continued effort from you the owner of the tree.
It has been said that the best fertilizer is a grower's shadow. This will be true of your small-stature or condo mango also. Get to know the tree. Find out how it responds to pruning. What works, and what does not work.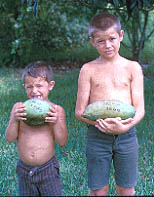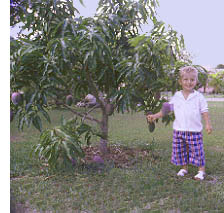 We can introduce you to the basics of pruning for size control, but this is no substitute for your constant input. Proper management of your condo mango is analogous to guiding a canoe, where you must always remain a number of paddle strokes ahead, anticipating what is to come. Looking at your trees this season, you should already be envisioning the season to come. Maintaining your trees in a calm and productive state is your ultimate goal. This means your job is never done, and that is not a bad thing. Turn off the depressing news report, or the mindless sitcoms and go into the garden.
Work with your trees. It will be a lifelong effort full of rewards - that means mangos in case you have forgotten what we are discussing.
Now, what should be going through your mind at this moment is an overwhelming desire to go out and do some selective pruning on your new 'Ice Cream' or 'Vallenato' trees. Or maybe you need to thin the fruit to get proper size development. The point is, this is fun. Will there be challenges, of course. You will have questions that need answering, no doubt. But, hopefully after a time you will begin to rely on your own experience and insight. Only then will we have done our job.