Sadness and Happiness
Jack B. Fisher, Ph.D., Senior Research Scientist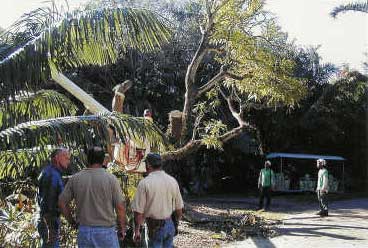 The grounds crew, led by Don Evans, reomves an old mango tree.
In January, the area to the west of the Windows to the Tropics conservatory briefly became a site of devastation. The Garden's largest avocado and mango trees were cut down to make way for construction of the new Whitman Fruit Pavilion. Several palms in the area also had to be removed. Both Garden members and horticultural staff were saddened by the demise of these old friends, but they knew that a wondetful conservatory for rare tropical fruit trees would soon follow.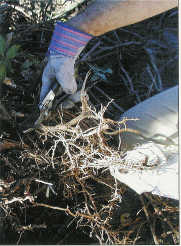 Jack collects the underground rhizomes of Desmoncus.
However, I was the exception to the sadness at the Garden. In fact, I was overjoyed at the thought of the palms being chopped and dug. I had long had my eye on the two clumps of the climbing Desmoncus palm that grew in the avocado tree. I wanted to study their underground system of roots and rhizomes. In recent years, I had been given permission to cut the occasional stem for my research on water movement in these spiny palms from South America, but I knew better than ask for the whole plant to be sacrificed for the cause of science. Then came word from Director of Grounds Management Don Evans — Desmoncus had to go.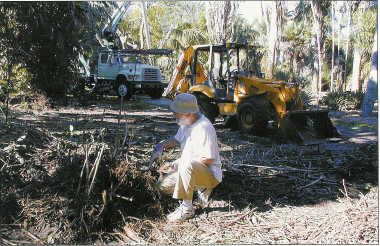 Jack collects the roots of Desmoncus while the construction crew prepares the site for the Whitman Fruit Pavilion.
With several months' warning, I was able to collect seeds from the existing plants, making it possible to propagate the species. Soon a second generation of the Desmoncus palm will grow in the Garden.
In the meantime, I happily carried out several experiments that required most of the stems to be cut. Then, with the help of a backhoe, the palm clumps were pulled from the ground and samples taken to my lab at the Research Center for studies of plant architecture, leaf development, root structure, and presence of mycorrhizal fungi. Just about every part was recycled for science. When asked how I felt about the removal of these palms, I had to say, "One person's destroyed palm is another person's exciting new specimen."
Garden Views Spring 2003