Jack Fisher
Three Decades of Botanical Excellence at Fairchild
John J. Pipoly III, Ph.D., Former Director of Research
Dr. Jack B. Fisher is Fairchild Tropical Botanic Garden's Senior Research Scientist and Administrator of Graduate Studies. At our holiday staff event, the Garden presented him with a special award to recognize his 30 years of dedicated, insightful research into the structure and function of tropical plants. Garden members know Jack as the scientist who demonstrates curiosities under the microscope at Ramble; his colleagues know him as a fascinating, multi-faceted leader in botanical science. The entire Fairchild Garden family - staff, volunteers, members, trustees and associates - is proud of his accomplishments.
A native New Yorker, Jack began his career when he escaped from the concrete jungle of Bayside, Queens, to attend Cornell University, where he obtained B.S. and M.S. degrees in botany, the latter in 1966. Subsequently, he joined the prestigious plant morphology laboratories of the University of California at Davis, where he obtained his Ph.D. in 1969.
Immediately after graduation, Jack was drawn to the tropics, specifically, Fairchild Tropical Botanic Garden, by an appointment financed by the Cabot Foundation of Harvard University. He worked with Barry Tomlinson from 1969 to 1971. Then, after spending a year at Ohio University, where he met his wife, Karen, on a field trip, he returned to the Garden to stay.
Jack demonstrates the truth of the eminent British botanist, E. J. H. Corner's statement, "Botany needs help from the tropics; its big plants will engender big thinking." Jack is one of the world's six preeminent authorities on plant structure and function. He is particularly renowned for his work on the structural basis of water transport in woody vines (lianas). His work in this area includes rattan palms, one of tne true treasures of the Asian rainforests. Jack discovered the developmental bases of branch geometry in tropical trees and went on to elucidate the relationships between structure and function in tree architecture. He has deciphered thorn formation in several African lianas, described the development of compound leaves in the mahogany family, and discovered how mangrove seedlings (affectionately called "cigars" by local Floridians) establish themselves through elastic fibers that pull them to stand up. His research methods are cited world wide as standard protocols to be followed. He has published 106 original research papers in many prestigious, peer-reviewed international journals, which include Proceedings of the National Academy of Science, American Journal of Botany, Canadian Journal of Botany, Botanical Journal of the Linnaean Society, International Journal of Plant Science, Annals of Botany and the New Phytologist. He is also on the editorial board of the International Association of Wood Anatomists' journal and the Canadian journal of Botany.
Recognition of the rapid decline of native tropical plant species in the 1990s sparked Fairchild Tropical Botanic Garden's renewed dedication to plant conservation and led Jack to begin an additional, entirely new, line of research, which he continues today. Under his leadership, and through Fairchild Tropical Botanic Garden's South Florida Plants and Environments research program) the Garden's Plant Structure and Function Lab has become the first of its kind to "academically retool" to assist the Garden's other labs to meet the imminent conservation challenge before us.
Jack's studies of the root biology in tropical species are accomplished by painstakingly detailed experiments to discover the relationships roots of endangered species have with microscopic fungi. These mycorrhizae help them absorb nutrients. Learning if a given endangered species must have mycorrhizae, or if they help nutrient absorption, has permitted much more effective domestication and propagation of those species. Thus Fairchild's work toward restoration of these precious remaining species and their habitats is facilitated by knowledge of a plant's mycorrhizal requirement. This unprecedented "retooling" has allowed our Lab to remain on the cutting edge while many others in the world have now closed.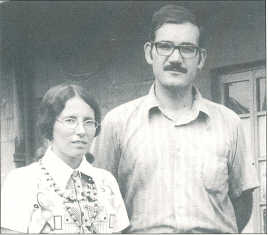 Karen and Jack Fisher in 1974
In his spare time, Jack has held positions of authority in seven scientific societies, has been awarded numerous grants from foundations including the National Science Foundation and the U. S. Fish and Wildlife Service. He belongs to the advisory committees of nine other scientific panels, has been a proposal reviewer for 11 different programs among various foundations, and regularly reviews manuscripts and books for 33 international botanical journals. He has supervised five postdoctoral fellows and has been a committee member for five doctoral students and nine master's degree students.
Unlike most laboratory scientists, Jack is also an accomplished field botanist, studying plants in the field and collecting specimens and live plants to enrich our Garden displays. He has collected and studied plants in the most remote regions of Australia's Queensland state, Singapore, Costa Rica, India, Mexico, Malaya, Borneo, Papua New Guinea, Panama, Puerto Rico, French Guiana, Jamaica, Fiji, New Caledonia and Dominica. He weathered the storm at Fairchild Tropical Botanic Garden during and after Hurricane Andrew. He served as Director of Research on two occasions, from 1991-1994 and again from 1999-2000.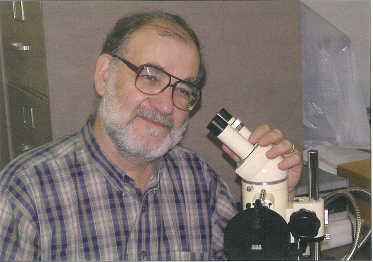 Dr. Jack B. Fisher, Senior Research Scientist and Administrator of Graduate Studies in Tropical Biology
In the fall of 2000, Jack enthusiastically assumed an additional post as the Garden's first administrator of the Graduate Studies in Tropical Biology program, run in coordination with Florida International University and the University of Miami. His academic excellence, broad research experience and extensive travels enable him to effectively administer the program and offer invaluable advice to the next generation of plant scientists. He is always teaching: students, the general public, and, especially, all of us at the Garden. Above all, Jack is known as a botanical statesman, a diplomat for plant science and, for Fairchild Tropical Botanic Garden, a network builder and an original thinker who is generous, encouraging and considerate of others. All of us in Research seek his advice regularly because we recognize the vast knowledge, maturity and breadth of experience he calls upon in counseling us. Although his demeanor is quiet, his laboratory is not. It hums with activity as he maintains partnerships with countless visiting international and local scientists, such as Dr. Barry Tomlinson, retired from Harvard University, Drs. David Lee, Steven Oberbauer and Jay Jayachandran from FlU, and Dr. Guillermo Goldstein from the University of Miami. Several students from UM are working diligently on joint projects. We expect many more years of quality work from Jack, and all of us hope to have sufficient energy and focus to emulate him.
Amazingly, with such a full academic life, Jack finds time for wood-turtning, cooking, gardening, East Indian music (he plays the sitar), camping and hiking. He and Karen have two daughters; Naomi, an accomplished artist, and Shira, an FlU alumna who is preparing for a graduate career in women's studies and sociology.
Garden Views Sprlng 2003