About Us
A herbarium is a library and museum of dried plant specimens. Our herbarium has more than 180,000 specimens from all over the world, including exceptional collections of Palms, Cycads, and Florida and West Indian plants. We are projecting growth of the collection to over 250,000 specimens over the next five years. We are currently documenting the entire collection with digital photography, scanning specimens, and entering the label data into a database. This database, the Virtual Herbarium, was launched on January 8, 1999.
Inquiries regarding the design and implementation of the Virtual Herbarium should be addressed to the Curator of the Herbarium. Inquiries about volunteering to help with the enormous task of generating this database should be addressed to Lynka Woodbury, Herbarium Manager.
The Fairchild Tropical Botanic Garden Herbarium (FTG)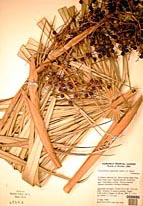 The Fairchild Tropical Botanic Garden Herbarium, located at the Center for Tropical Plant Conservation, includes the largest and most significant collection of South Florida plants in the world, the voucher set for the Flora of the Bahamas (Correll and Correll 1982) and the voucher set for the extensive living collections in the Fairchild Tropical Botanic Garden. It is the official repository for the Institute for Regional Conservation, many state and county parks, Florida International University and the University of Miami. The Buswell Herbarium of the University of Miami is now part of FTG, as is the Florida Atlantic University Herbarium. The palm and cycad collections are world class, as is the Caribbean collection. It is the fourth largest herbarium in Florida and ranks as a mid size herbarium nationally. Housed in the herbarium are several other important collections such as the xylarium with nearly 500 collections, and several collections of original illustrations numbering nearly 3000 sheets in all. Research is the major focus of the herbarium and many publications in peer reviewed journals have been generated from use of the herbarium's collection.
The collections are open Monday to Friday from 9am to 5pm .
To volunteer to help in the operation of the herbarium please contact:
Lynka Woodbury
Herbarium Manager
Phone: 305 667-1651 ext. 3427
Email: lwoodbury@fairchildgarden.org
For all other correspondence please contact:
Curator of the Herbarium
Phone: 305 667-1651 Ext. 3418
Email: herbarium@fairchildgarden.org
Web design by Dan McGillicuddy
Background photos by Patricia Houle
Leaf border by The Inspiration Gallery
DHTML JavaScript Menu By Milonic.com

This material is based upon work supported by the National Science Foundation under Grant No. 9820174

11935 Old Cutler Road, Coral Gables, FL 33156-4242 USA

Phone: 305-667-1651 • Fax 305-665-8032