Volunteer Opportunities in the Herbarium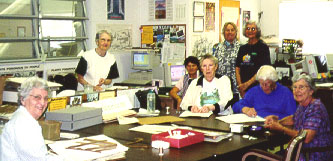 Most volunteers in the herbarium end up doing a few different things to keep things interesting but a few prefer to concentrate on a single job. The choice is yours. We are happy to have your help. We currently have places for approximately 100 more volunteers than we have. Positions that we currently need people for are described below. The herbarium is open from 9am until after 5pm weekdays (volunteers can usually stay until 6:30 or 7 but they have to come in by 4:30). We are likely to be open on Sundays (if there is enough demand) starting after Thanksgiving. There are volunteer jobs that can be done partially or fully at home too.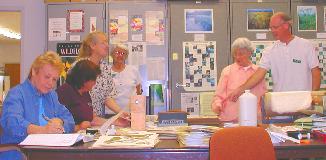 Jobs in the Herbarium
Mounting specimens

We will train you to arrange and mount a specimen and label.

Scanning specimens

You place a barcode on the label of a specimen and then scan the specimen with a flatbed scanner. You rename the file that you generated using a barcode scanner and go on to the next specimen.

Entering label information into a database

We provide special software to enable this important task.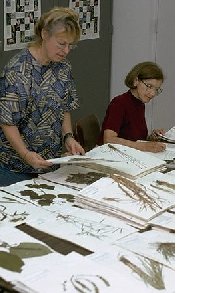 Jobs in the Herbarium and at Home
Scanning and processing slides

We have an enormous collection of photographic slides that we want to put on the internet. We also have an automatic slide scanner that does 40 slides at a time. At this time we are seeking volunteers to pick out sets of slides of a given plant family or other subject area. The slides are then scanned in the automatic scanner and the volunteer can either process them in the herbarium or at home (processing is basically making them pretty in photoshop or a similar graphics package and placing a copyright on them). They are then entered into a database in the herbarium and go onto the web.

Entering reprints into a database.

The researchers have large collections of reprints that need to have their bibliographic citations entered into a database. You can do it in the herbarium (we have several computers available for this), or you can take a stack home and do it on your own IBM compatible computer. We provide the software.
Jobs at home (even if you live far away)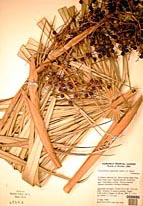 All you need is a web browser and email.
Determining latitude and longitude

We need people all over the state to determine the latitude and longitude of specimens collected in their area. This entails pulling up all of the collections for your county in the Virtual Herbarium and just making a list of latitude, longitude and the Accession number of the specimen. You then email the list to us and we check the data and incorporate it into the database. This isn't as difficult as it might sound. There are digital maps available that tell you the lat/long automatically when you place your cursor on the locality. They aren't available for everywhere though. Please email us to discuss this project first if you want to do it.

Going to other herbaria and getting locality data

We need very careful and responsible individuals with a knowledge of plants who live near Tallahassee, Tampa, Orlando, Boca Raton or Gainesville to get locality data from herbarium specimens at institutions in those areas. The data can be typed, or ideally, entered into our database.
Special Projects
We always have a number of special projects available that can be tailored to fit the needs of those of you who want to contribute but who have peculiar schedules or requirements. These require that you agree to do the whole project though. Some projects take 10 hrs. others take much more. We can usually tailor one for the amount of time that you have.
Internships
We also take interns from various internship programs at High Schools and Colleges. We are proud to have written good letters of recommendation for several good students who have volunteered in the herbarium. Email Lynka Woodbury for more details.