Another Major Acquisition for the Garden's Herbarium
Gerald "Stinger" Guala, Ph.D, Former Keeper of the Herbarium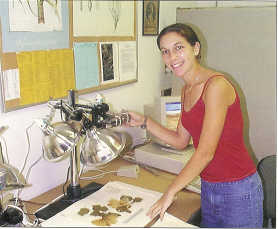 Heather, one of our dedicated herbarium volunteers, helps to create the Virtual Herbarium
On a cloudy day in early July this year, the Fairchild Tropical Garden Herbarium became the undisputed leader among herbaria for South Florida plants and the only major herbarium south of lake Okeechobe. This was made possible through the acquisition of the majority of the Florida Atlantic University Herbarium (FAU).
With the retirement of the well known South Florida botanist, Dr. Daniel Austin, the herbarium material would have eventually ceased to be readily available to FAU students. In order to maintain this availability to local South Florida students and researchers, a majority of the collections was transferred to Fairchild. This was part of a working agreement between FAU and Fairchild facilitating the sharing of resources. Eight cases of local flora teaching collections were moved to the Davie campus of FAU; that collection will be maintained as the FAU herbarium.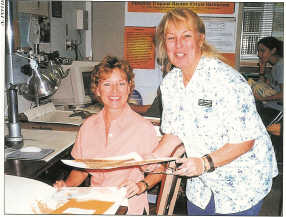 Angela Rosario, Herbarium Volunteer (left), and Lynka Woodbury, Herbarium Resource Coordinator, prepare herbarium sheets for photography.
The other 39 cases, which hold approximately 36,000 sheets; three plant dryer cases; and other small herbarium collections and their cases were transferred to the Garden. They are currently being integrated into our permanent collections. A few thousand sheets of morning glories and their relatives will go on loan to Dr. Austin in his new home in Arizona as soon as they have been photographed and data based. In the last three years, the Fairchild herbarium has doubled in size and now holds approximately 165,000 specimens including the largest and most complete Bahamas collection in the world, the largest and most complete South Florida collection, world class collections of Palms, Cycads, Mysinaceae and Clusiaceae as well as an excellent general collection of Caribbean plants. Given that an herbarium case costs approximately $1,000, a dryer case $1,800, and that the general value of herbarium specimens is approximately $14 each, you can see that the Fairchild herbarium with 165,000 specimens in 195 cases and 4 dryer cases is a very significant and valuable resource.
Garden Views November 2001