Australian Palms: An Artists Perspective
Slide lecture by Lucy Smith
Monday, August 23, 1999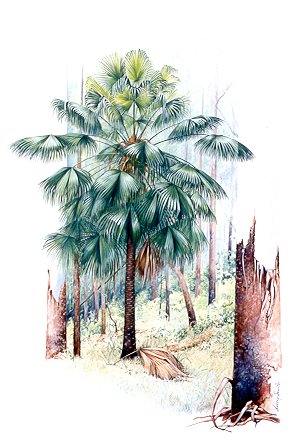 Livistona australia
345 x 520 mm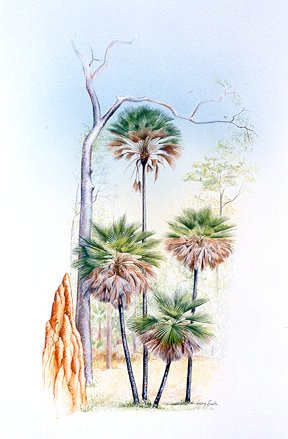 Livistona muelleri
270 x 480 mm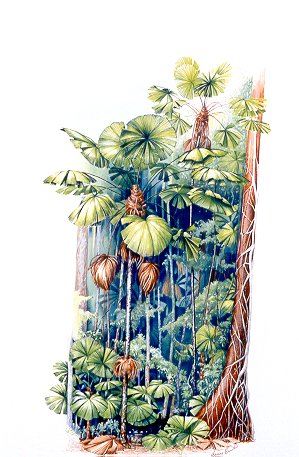 Licuala ramsayii
340 x 490 mm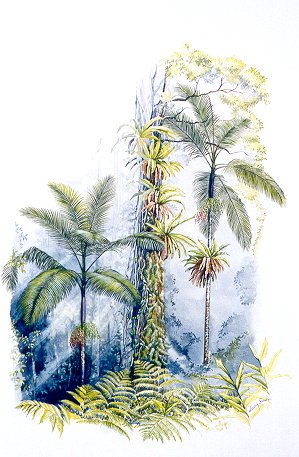 Archontophoenix purpurea
360 x 500 mm
Lucy Smith, a freelance botanical artist and illustrator from Australia, spent three weeks in January at the Garden creating botanical illustrations of palms. She is employed by the Royal Botanic Gardens, Kew, to provide illustrations for The Palms of New Guinea. Biologist Dr. Scott Zona is also involved in this project. While at Fairchild, Lucy used the living collections, as well as herbarium specimens, to illustrate species of Ptychosperma, a group under study by Dr. Zona.
Lucy has lived in north Queensland, Australia for ten years. Since graduating with a Visual Arts Honours degree from James Cook University in 1994, she has illustrated both flora and fauna for science, and specialises in palm botany. She has also been a contributor to the Flora of Australia.
Lucy began illustrating the palms of her native Australia when she received a commission from the Townsville Palmetum in 1995 to produce a series of paintings of local palms. The diversity and beauty of the north Queensland region and its palm flora were the inspiration for "The Palms of North Queensland" illustrations, created for a Master of Creative Arts Degree completed 4 years later. Lucy Smith conducts extensive field work and observation of all her subject matter, and often travels to remote locations for this purpose.
The four limited edition prints shown were for sale after her lecture.
---
In 2001, Lucy had a unique opportunity to join the crew of a replica of the sailing vessel Endeavour, following in the footsteps of Captain James Cook's 18th century voyage of discovery to Australia. While on board, she painted many of the plants collected by the famous British botanist, Sir Joseph Banks, and illustrated by the original expedition's artist, Sydney Parkinson. The modern voyage was filmed for a BBC/The History Channel documentary. Lucy's contributions to the Palms of New Guinea project will appear in book form in 2005. She plans to illustrate all 250 species to be treated in that work.