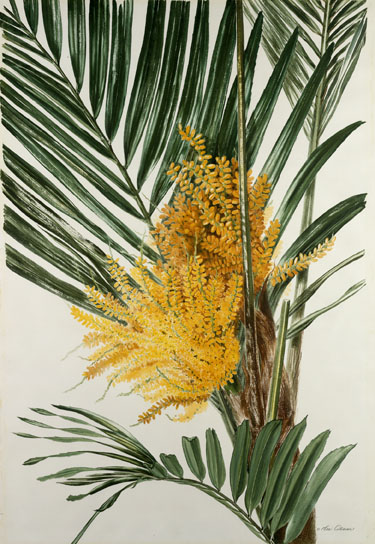 Lee Adams, watercolor, Arenga engleri
Lee Adams
"Lee Adams Remembered" ~ September 16 - November 7, 2005
Thrasher-Horne Center for the Arts, Orange Park, FL
Fairchild Tropical Botanic Garden collaborated with the Thrasher-Horne Center for The Arts in Orange Park, Florida on their 2005 exhibit "Lee Adams Remembered". This retrospective of Adam's life featured works from many private collections throughout Florida, including Fairchild's.
Lee Adams, a famous north Florida botanic artist and environmentalist who died tragically in 1971, was introduced to David Fairchild in 1945. Dr. Fairchild was impressed by his work, considering it botanically correct as well as aesthetically pleasing. To his friend Dr. George H. Opdyke, who made the introduction, he said, "Here is the man to do for tropical fruits what Audubon did for the birds."
We have at Fairchild one of the largest known collections of his work — 23 botanically accurate paintings, the majority being palms. Dr. Arthur Montgomery commissioned these paintings for the garden in 1961 and you may have seen them over the years at various events in the Garden House.
Fairchild loaned 15 of these works to the Thrasher-Horne Center for the Arts and provided information from our archives on the relationship between Adams and Dr. Fairchild. The exhibition opened September 16 and ran through November 7, 2005.