New Species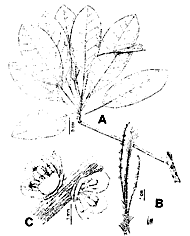 Above, Wes Jurgen's illustration of Tapeinosperma magnifica Pipoly & Takeuchi. Below, a photograph of the same taken with the Research department's new camera.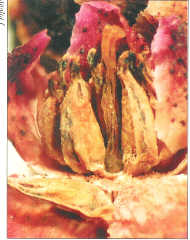 The tropical rainforests of the world are rapidly diminishing due to pressure from development. One of the last frontiers of pristine rainforest in the world is found on the island of New Guinea. The west side of the island, Papua Barat, belongs to the country of Indonesia, and the east side, Papua New Guinea (PNG), is an independent country.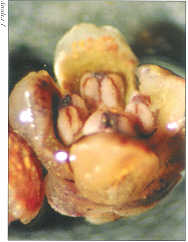 Above, a photograph taken of Discocalyx keyoae Pipoly & Takeuchi with the Research department's new camera. Below, Wes Jurgen's botanic illustration of the same plant.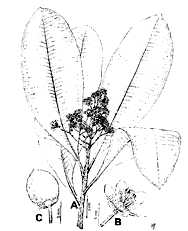 The forest service of Papua New Guinea ranks among the finest, known for its efforts to document, sustainably use and conserve its natural forest heritage. The headquarters for this documentation and the PNG national herbarium is the city of Lae. It is located on the eastern side of the country, and is still surrounded by many sizeable patches of relatively undisturbed rainforest.
Fairchild's Director of Research, Dr. John Pipoly, in conjunction with Dr. Wayne Takeuchi of the Arnold Arboretum of Harvard University and others, has worked to document the exceedingly rich and largely undescribed flora of New Guinea. This work has resulted in the discovery of two species new to science, Tapeinosperma magnifica Pipoly & Takeuchi, and Discocalyx keyoae Pipoly & Takeuchi, both of the Myrsinaceae or Marlberry Family. The formal description of the two species, with notes on their ecology and conservation status, will be published in the next issue of Harvard Papers In Botany, volume 8, number 2.
The paper is richly illustrated, thanks to the precise and detailed work of Wes Jurgens, Fairchild volunteer extraordinaire. His meticulous attention to scale and detail greatly facilitates the description of the species by elucidating the salient structural features of each. His ability to note the exact proportions of flowers only two to five millimeters long is a rare talent, indeed!
Wes, who was named the Fairchild Tropical Garden Volunteer of the Year Award in 2002, has been a volunteer at the Garden since August of 1996. He is a master at verification of identifications of South Florida plants, sorting recently mounted specimens for filing, and filing specimens in the Garden's Herbarium. His skills in illustration can be seen in the Flora of Florida project, where his illustrations, combined with those of former Garden staff artist Priscilla Fawcett, grace the pages of Volume One: Pteridophytes and Gymnosperms.
Wes and John will continue to illustrate new species, as they produce treatises that analyze the origins, conservation status and relationships of other groups of Marlberries and the Mangosteen Family (Clusiaceae) in the tropics worldwide. All of us in the Research department are very grateful for Wes' dedication and skills, and congratulate him on a job well done!
Garden Views Spring 2004