From a Malaysian Jungle to Miami:
Enriching our collection of rainforest palms
Carl E. Lewis, Researcher in Palm Systematics and Conservation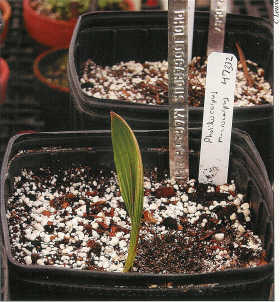 Pholidocarpus macrocarpus, collected in Malaysia, has germinated in Fairchild's nursery.
South Florida is famous for its tropical palms and blazing sunshine. With palm-lined pathways and vistas, Fairchild Tropical Botanic Garden is a perfect place to see sun-loving palms from all over the world. Our climate is ideal for species that come from savannas, coastlines and forest canopies. However, most of the world's palm species grow in a very different habitat, tucked away in the moist, shady depths of tropical rainforests. Rainforest palms have always been a minor part of Fairchild's collection, but we are working to increase their representation.
Shady, moist rainforest conditions were once common throughout the tropics, providing a home to a rich diversity of palms. As rainforests around the world disappear, the survival of shade-loving palms is being threatened. Rainforest palm species are being lost faster than we are able to study their biology and evaluate their horticultural potential. As we work to maintain and increase the value of Fairchild's palm collection, we see the world's remaining rainforests as the best untapped source of species for horticulture, research, and conservation.
On an expedition organized by the Forestry Research Institute of Malaysia (FRIM) and Dr. Scott Zona, Fairchild's former Palm Biologist, we traveled to the heart of one of the world's most palm-rich regions in search of rainforest palms. Pristine rainforests no longer exist on the Malay Peninsula, but some forests still have a surprising diversity of palms and other plants. With the logging industry under careful management, there are tracts of forest that have been untouched for decades. We visited several of these forests in Malaysia's Terengganu state during October 2002. Our goals were to help FRIM botanists collect data and specimens for their research on threatened Malaysian palms and to bring seeds of the FRIM specimens back to Fairchild for our living plant collection.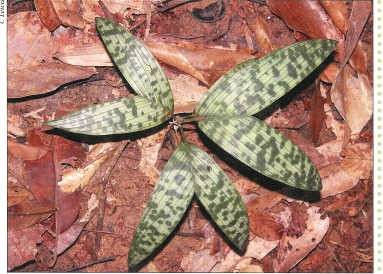 A young Pinanga cleistantha with attractive spotted leaves.
With constant warmth and a steady supply of moisture drifting in from the South China Sea, the forests were bursting with plant life. Not deterred by the monsoonal storms, slippery terrain, or hundreds of blood-sucking leeches, we scoured hillsides, streambeds, and swamps in search of interesting palms.
Dr. Saw Leng Guan, curator of the herbarium at FRIM, is an expert on Malaysian rainforest palms. With his guidance, we found many unusual Areca, Pinanga, and Licuala palms that have never been grown in a botanic garden. The delicate beauty of these palms will provide a striking contrast to the bold, full-sun palms found in most South Florida landscapes. We brought seeds of additional forest palms, such as Johannesteijsmannia, Pholidocarpus, and Oncosperma, along with seeds, cuttings, and spores of several other rainforest plants. Some of the new plants will be placed in the R. H. Simons Rainforest or the Windows to the Tropics Conservatory.
A portion of the Bailey Palm Glade, located between the Garden's two main overlooks, was being developed as a showcase of low-growing rainforest palms until 1992. The dense oak canopy provided a suitable shady environment. Unfortunately, Hurricane Andrew destroyed the tree canopy and severed irrigation lines. Fairchild horticulturists worked hard to keep as many of the existing rainforest palms as healthy as possible under increased exposure to sun and dry conditions. New plantings in the area stalled during the years of recovery.
Today, the Palm Glade is ready for a makeover that will enhance its representation of rainforest palms. The tree canopy is as dense as ever, and the rebuilt irrigation lines now have backup systems that make them easier to maintain and repair. Already a spectacular place to see towering canopy palms and epiphyte-covered oak limbs, the area is becoming more diverse at ground level. Recent plantings in the area include several new species of Licuala and Chamaedorea. Over the next several years, the new palms collected from Malaysia will take their places among Palm Glade plantings.
Garden Views Winter 2003