Marlberries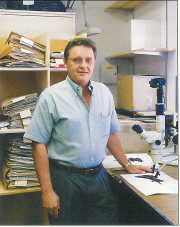 John J. Pipoly III at his research post
Dr. John J. Pipoly III and his colleague, Jon Martin Ricketson of the Missouri Botanical Garden, have just completed and published a major taxonomic review of one of Central America's most difficult plant genera, the marlberries or Ardisia. The work has been published in the prestigious Annals of the Missouri Botanical Garden (90: 179-317), entitled "Revision of Ardisia subgenus Auriculardisia (Myrsinaceae)." This journal is one of the most important journals in botanical science and in the top three for those that regularly publish major taxonomic works. Through delineating the taxonomy and biogeography of this group, John has advanced Fairchild's work on understanding the plant diversity of Central America and the Caribbean.
The study was conducted during a five year period with intensive, detailed study of over 3,500 collections from 48 herbaria and botanical museums around the globe, making this effort truly international. The revision provides a new classification, including six new sections, for this group of 75 species and subspecies that occur from Mexico throughout Central and South America to southern Peru. Pipoly and Ricketson faced a total of 244 Latin names, of which 169 were found to be synonyms or excluded. Thirteen of the species and two of the subspecies are new to science. This group has not been critically examined nor brought up to date since 1902.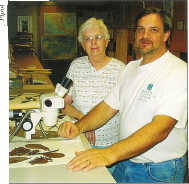 Jon M. Ricketson, Missouri Botanical Garden, and volunteer: Ms. Mary Bard
The work is beautifully illustrated by Jon Ricketson. The Garden's agreement with FlU made it possible to take scanning electron microscope pictures. Detailed analysis of tree architectural models and ecology within the group were provided by Pipoly, who has studied and collected 20 of these species in Central and South American rainforests while on grant-funded expeditions. Pipoly and Ricketson's teamwork resulted in a broad-based work, with keys to identify all of the species and subspecies, and full descriptions. For each species, there are notes on its ecology, the origin of its name, its geographic distribution, prospects for conservation and its biological relationships to other species.
This work is part of a greater effort between Pipoly and Ricketson to publish another, much larger tome: Flora Mesoamericana: Myrsinaceae, which classifies nearly 300 species of the Marlberry Family that occur from southern Mexico to the Panama-Colombia border. Publication is planned for later this year.
This effort is yet another example of how collaboration among leading research botanical gardens can result in significant advances to our understanding of the origins, classification, and conservation of tropical plants, which do so much to sustain life on earth.
Garden Views Autumn 2003