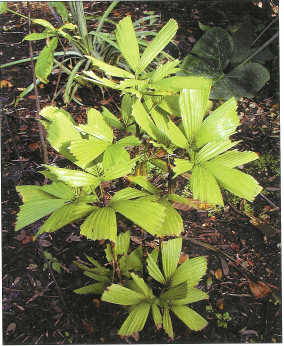 A windowpane palm, Reinhardtia gracilis, growing outdoors in an acid soil area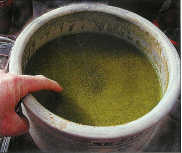 Some interesting plants live in aquatic environments. This genus, Wolffia, is related to duckweed and includes the smallest flowering plants in the world.
Look Again
Chuck Hubbuch, Former Director of Plant Collections
photos by the author
For many of the years of Fairchild's existence, the Garden's horticulture staff worked hard to introduce new plant species but had few resources for dealing with plants with special growing requirements. This meant, to a great extent, a visitor could take Fairchild at face value. If a plant grew well outdoors in the Garden, any reasonably good gardener in South Florida could grow it. Today, however, the horticulture staff is adding excitement to the public garden with some new horticulture methods.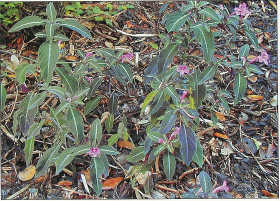 Ruellia makoyana growing and flowering in one of the acid soil areas
Did you have to look again when you first saw the healthy Reinhardtia palms or the purple-flowered Tibouchina outdoors? If you know anything about these plants, you know that they do not grow well here. Fairchild's horticulture staff dug a huge pit in the limestone and filled it with an acidic soil. In essence, it is a big flower pot. Now, Reinhardtia palms and Tibouchina shrubs are growing beautifully.
We were so happy with the first effort that we dug a total of three pits at the southern and eastern edges of the rainforest exhibit and filled them with acidic soils. One area was filled with a commercial potting mix, one with an acidic sand and one with a sandy, red clay from central Florida. If you take a slow walk by these acid soil areas, you will see many plants that are not often grown in Miami-Dade County. We know we can maintain the acidity with fertilizers. Nevertheless, it will be interesting to see how these soils and plants change in the coming years.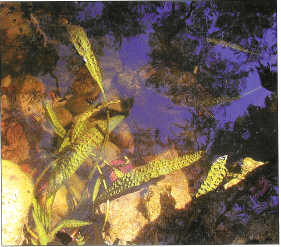 Cryptocoryne aponogetifolia, an aquatic aroid from the Philippines, grows in the rainforest stream at Fairchild.
Undoubtedly, you have noticed the waterlilies and other plants emerging above the water surface in various pools around the Garden. If you took time to look at these pools or the rainforest stream, you may have seen members of aquatic plant families never before cultivated at Fairchild. Literally hundreds of tropical aquatic plant species are suitable for use in garden ponds and aquaria. Some of these plants grow below the water surface, some root below but emerge above with colorful flowers, and others spend their lives floating on the water surface.
Nymphoides cristata is an attractive floating aquatic plant in the family Menyanthaceae.
New plant species, fertilizers, growing media and growing methods provide unprecedented opportunities for gardening in water. Fairchild staff will experiment further with an aquarium in the Conservatory, where submerged plants can be seen to better advantage. Once you see the possibilities, you may want to dig that old fish tank out of the garage to start your own aquatic plant display at home.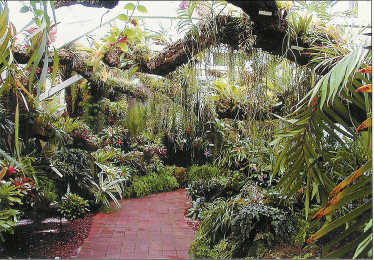 Looking into the epiphyte room of the Conservatory at the artificial trees
During your next visit to Fairchild, please remember to look up. South Floridians are lucky to live in a part of the United States where we can garden up in the trees. Fairchild's horticulture staff is beginning to take advantage of this opportunity, both in the rainforest and in drier environments. If you have a large tree in your yard, try some of the hardier epiphytes that grow well outdoors in South Florida, genera like Tillandsia, Brassavola, Rhipsalis and Anthurium.
A close look at one branch of an artificial tree
If you do not have a tree, look at the epiphyte branches in the Conservatory. Did you realize that these are PVC pipe skeletons with cork bark attached by wood screws? Epiphytes grow on these artificial branches as if they were back in their native rainforest. This is a relatively simple technique that can be used to make a branch or small tree for your patio or foyer. Note that standard PVC water pipe is not strong enough to hold up a large branch or tree. In the Conservatory, these branches are hung by cables from the roof.
If you have not looked closely at these exhibits, please come back and look again. These innovative horticultural techniques help the horticulture staff display new plant species in appealing ways and help expand the diversity of plants available for research and education purposes. I hope they give you new ideas for your home garden plant collections, too.
Garden Views March 2001