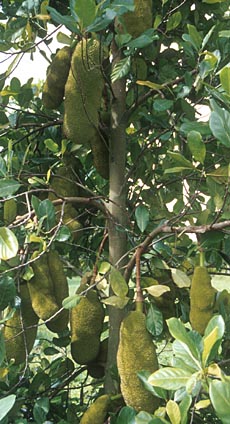 Jackfruit
Artocarpus heteropyllus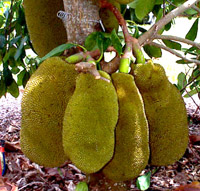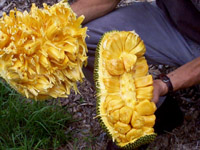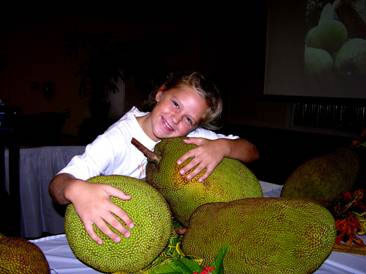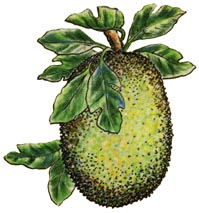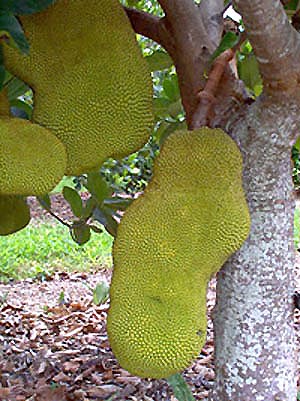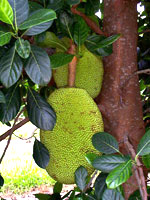 The Asian tropics have long fascinated western fruit enthusiasts. Where else can you be seduced by the sultry tastes and aromas of durian, mangosteen, rambutan and pulasan? Or, of course, the fabled jackfruit? This most unusual of fruit is a member of the mulberry family, although its outward appearance would not suggest the relationship. The fruit can weigh upwards of 30 or 40 pounds, with an unusual, spiky green skin. Inside there are a hundred or more large, starchy seeds surrounded by a sweet and aromatic flesh, all attached to a central core. The aroma of the ripening fruit is extremely sweet, with a distinctive flavor reminiscent of bananas and 'Juicy Fruit' gum.
The origin of jackfruit is probably India. David Fairchild collected a variety in Ceylon which was planted on his property in Coconut Grove. Jackfruit is also called jak-fruit, jak, jaca, in Malaysia and the Philippines, nangka; in Thailand, khanun; in Cambodia, khnor; in Laos, mak mi or may mi; in Vietnam, mit.
Although the jackfruit was introduced to Florida and tropical America over a century ago, it never attained widespread acceptance. This was probably due to its unusual appearance, unique aroma and lack of local familiarity with its uses. Also, because it was difficult to graft, there was little improvement in jackfruit and most of the trees in this hemisphere were of inferior quality.
However, that was then and this is now. At Fairchild Tropical Botanic Garden we have collected, planted and nurtured more than 25 jackfruit cultivars from India, Thailand, the Philippines, Indonesia and Australia. We are now fruiting these treasures. We are also revising our cultural practices, based on what we have learned over the past ten years of intensive study.
Native to the lowland rainforest of Southeast Asia, the fruit weighs between 30 to 70 pounds each. The tree can be maintained at a height 3 m (9.8 ft) if grafted. The production per tree is between 66 to 132 pounds per year depending of the cultivar. Jackfruit mature 3 to 8 months from flowering. When fully ripe, the fruit emits a strong odor, while the pulp of the opened fruit smells of pineapple and banana. There is usually a change of fruit color from light green to yellow-brown when ripe and the spines are less closely spaced. The only handicap is a copious gummy latex which accumulates on utensils and hands unless they are first coated with cooking oil. The jackfruit is a highly versatile fruit, used green as a cooked vegetable, eaten fresh when ripe, and included in many regional cuisines. Immature fruit is boiled, fried, or roasted. Chunks are cooked in lightly salted water until tender and served. Before cutting the fruit, it is important to guard against the sticky latex. Immature fruit have more latex, so work near a sink and coat the knife, hands and center of the cutting board with vegetable oil.
The seeds are edible and nutritious. They contain 38% carbohydrates, 6.6% proteins and 0.4 g fats. They may be prepared in several ways. The fruit aril is used in soups, desserts, milk drinks and salads. The seeds can be boiled or roasted and eaten similar to chestnuts. Cold storage trials indicate that ripe fruit can be kept for 3 to 6 weeks at 50F.