The Screw Pine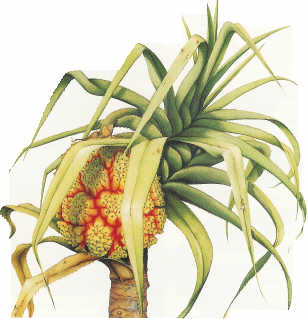 Venture down to the lowlands, wander around Fan Palm lake, and you'll soon see the unusual and fascinating Pandanus utilis. This useful plant is believed to be a native of Madagascar, but like that other ubiquitous monocot, the coconut palm, it has so spread throughout the tropics that its origins are difficult to determine.
Can I grow this tree myself?
Yes. It is easy to grow and will flourish in many conditions. It can be grown in zones 10 and 11, which includes South Florida.
How much space does it require?
Allow space for an ultimate height of thirty feet, with equal width. In dry conditions it grows slowly, but as moisture increases, so does the rate of growth. Other species may reach 70 feet in the wild. Most make more horizontal than vertical growth.
What kind of conditions does it require?
In nature, the screw pine grows on the seashore and around tidal lagoons. However, it will tolerate drought, and is very salt tolerant. It will grow faster if it receives plenty of water. Although young plants will tolerate shade, full sun is required for fruiting. Small trees, six to eight feet tall, can be grown in large pots.
What does a screw pine look like?
Like all Pandanus, a genus of more than 600, P. utilis has trunk-like stems ending in branches with spirals of sword-shaped leaves. Watch out for these leaves! They often have sharp edges or teeth. Look carefully at the leaves of P. utilis and you will see small red teeth on the margins. While you're looking at the leaves, take note of the spiral pattern of the leaf scars: they account for the common name "screw pine". The "pine" is a reference to pineapple. Stems are held high in the air by stilt and prop roots, adding to their unusual appearance.
Where can I get one?
You should be able to find screw pines at local nurseries. You also may find a variegated species, P. veitchii, whose leaves have attractive white striations, or P. sanderi, with golden bands from mid-rib to margin. You also may want to try propagating your own tree. Large branches can be planted directly in the ground, where they will root easily. Seeds will germinate in eight to twelve weeks if soaked for 24 hours and then placed face-up in potting medium.
What about flowers and fruit?
Pandanus are dioecious, that is, male and female. The males beariragrant flowers on four-inch long spikes; females bear large globes of petalless flowers. The appearance of large, spherical compound fruit may remind you of pineapples. In March and April, the female plants bear fruit, green at first, then turning yellow. These fruit are great favorites of racoons and other animals that inhabit the lowlands. The fruit of other species are eaten by humans, and the leaves are used for fabric, rope and thatching.
Garden Views, January 2001