Seasonal Color - Muhlenbergia capillaris
Katherine Maidman, Former Curator of Palms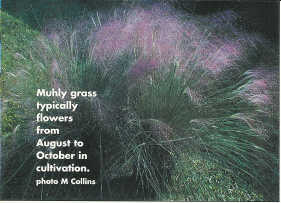 Let's celebrate autumn in South Florida! No golden aspens or russet leaved maples are in sight, but we can make do with something a little different; we have autumn splendor in the muhly grass. From September to November, Muhlenbergia capillaris flowers in South Florida's coastal uplands, prairies and pine flatwoods, with cloud-like heads of flowers that are an unearthly pink in the light of morning or early evening. If muhly grass were used more in our landscapes, creating a concerted planting across urban South Florida, it would be cause for autumn outings in the car and strolls down the lane. It would reinvent falI color for us all.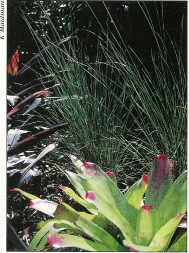 Most of the year muhly grass is a foil for colorful and coarse textured friends.
It should be acknowledged that Muhlenbergia capillaris is shared with temperate areas, in fact the species is native to most of the eastern US and is found as far north as New York State. It occurs in a wide range of moisture and soil conditions and makes an accommodating landscape plant. While it appreciates water and grows substantially taller in moist sites, muhly grass adapts well to drought. This grass gets high marks everywhere it is grown for being manageable. Unlike sodgrasses, running grasses that spread aggressively by long runners, muhly grass forms a clump with short runners. As such it can be maintained as a neat clump and intermixed with other perennials without danger of choking them out.
Muhly grass clumps typically grow to 18 inches in height and about the same width. The inflorescences rise another 12 inches or more above the leaves. After flowering, as the leaves begin to brown, the entire clump can be cut back to six inches from the ground. In spring new growth will arise from the crown. To enhance the spring flush of leaves, fertilize as early as February to March with a light application of a general balanced complete ferilizer such as palm special, or with an organic fertilizer. Avoid heavy fertilizing of ornamental grass since this produces elongated growth and a clump that falls over. For best growth, water weekly during the dry season.
And what does muhly grass contribute to a garden until fall? Fine textured grasses are a useful harmonizing element in our landscapes, providing a common thread that relates different plantings. The blue-gray and finely textured muhly grass complements a surprising variety of plants. Be bold and try it with tropical textures such as bromeliads and aroids. You can find muhly grass in native plant nurseries and at our upcoming Members' Day Plant Sale.
Garden Views Autumn 2002