Gigantic Orchid Blooms — Grammatophyllum speciosum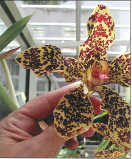 The spectacular queen orchid, Grammatophyllum speciosum, recently bloomed in the Garden's conservatory. This seldom cultivated species, native to tropical Asia, is the largest orchid with pseudobulbs, long stems that store water and nutrients. They usually are about eight feet long but occasionally reach 25 feet.
The dramatic six-foot flower spikes emerge from the pseudobulb bases. Over a two-month period, each prodigious spike may produce a hundred large, waxy flowers, four inches in diameter and mottled reddish brown and butterscotch yellow. The first flowers to open on a spike lack the typical lip and one of the sepals. Craig Allen, Conservatory Manager, was relieved to find that unlike that other spectacular bloomer, Amorphophallus titanum, this gigantic beauty has a delicate fragrance.
In the wild, it usually grows as an epiphyte in crotches of sturdy trees, where its roots form basket-like structures that capture leaves and other sources of nutrients. The long pseudobulbs hang down from the plant, extending along the tree trunk.
Clearly, the large size of this plant and requirement for full sun makes it impractical for the average balcony or patio. It should be grown in large pots weighted down with large stones or bricks to accommodate the great bulk of this huge orchid. Smaller species and hybrids of Grammatophyllum seem to be better choices for most South Florida gardens.
Garden Views November 2001